Page last updated on May 16, 2022 at 8:53 am
Registration for Kid City Summer Camp is now open!
Kid City Summer Camps are held at the Allison-Jukebox Community Center, 351 S. Washington St. in Bloomington.
Kid City Counselor-in-Training
The Counselor-in-Training program is the first step in becoming a camp counselor. In addition to working with children, gaining leadership experience and receiving great job training, CITs are also involved in planning and implementing camp special events.
Applications for the Kid City Counselor in Training program are no longer being accepted. Interviews take place in May. See the grid below for registration information for accepted CIT candidates.
CIT Session Dates
Registration Fee
in-city/non-city
Registration and payment due by 5 p.m.
June 6-17
$175/$180
5/31
June 20-July 1
$175/$180
6/13
July 11-22
$175/$180
7/5
Kid City Original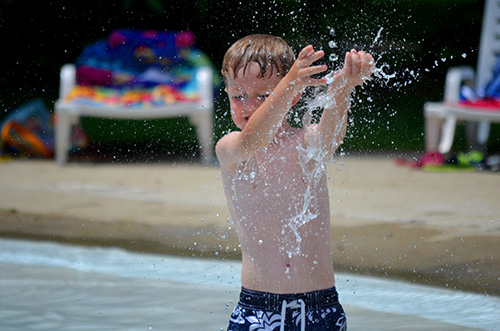 Campers in grades K through 4 explore the world around them with field trips and special events. Daily programs give campers the chance to try specialized activities in the areas of nature and the outdoors, sports and games, and arts and media. We give every child a summer to remember! Staff-to-camper ratio is 1:6 for grade K. Staff-to-camper ratio is 1:8 for grades 1-4.
Kid City Quest
Youth in grades 5-7 want a different kind of camp experience, and they get it in Kid City Quest! Quest campers are actively engaged in activities separate from younger Kid City Original campers. Space is dedicated to Questers where they can hang out with their friends and be themselves. Camp offers a break from technology, replacing it with participation in the community. Kid City Quest also keeps campers involved in traditional camp favorites such as swimming, crafts, library time, games and field trips! Staff-to-camper ratio is 1:10.
Kid City Summer Camp Fees and Registration Deadlines
Registration deadline for each week of camp is the Monday BEFORE the camp session begins. Camp sessions are one week long, Monday through Friday (except Sessions A and F). 
A non-refundable, non-transferable administration fee of $40 per session per child is included in each week's registration fee. Click here to download registration materials.
Cancellations must be made before the registration deadline in order to be eligible for a refund.
All late registrations require a $40 administration fee in addition to the camp registration fee.
2022 Kid City Summer Camp Sessions
Session
Dates
Registration Fee
in-city/non-city
Registration and payment due by 5 p.m.
A
May 31-June 3
No camp May 30.
$144/$148
5/23
B
June 6-10
$180/$185
5/31
C
June 13-17
$180/$185
6/6
D
June 20-24
$180/$185
6/13
E
June 27-July 1
$180/$185
6/21
F
July 5-8
No camp July 4.
$144/$148
6/27
G
July 11-15
$180/$185
7/5
H
July 18-22
$180/$185
7/11
I
July 25-29
$180/$185
7/18
J
June 23-24
Overnight
$40
6/21
K
July 15
All Camp Parent Night Out
$25
7/11
What Parents Need to Know About Kid City Summer Camp
Our camp staff are enthusiastic, well-trained adults. All staff are CPR and First Aid certified and adhere to the highest professional standards set forth by the American Camp Association and the Bloomington Parks and Recreation Department.
Parents are responsible for transporting their child/ren to and from camp at the Allison-Jukebox Community Center each day. Once at camp, city buses and passenger vans are used to transport campers to and from field trips that are not within walking distance. Only trained, licensed drivers transport campers. Please bring: a sack lunch and water bottle, a swimsuit and towel, and any special sunscreen, bug spray or medications.
All Kid City Original and Quest programs are proud to be accredited by the American Camp Association. This nationally recognized accreditation focuses on program quality, health and safety issues, and requires us to review every facet of our operation. Kid City has voluntarily submitted to this independent appraisal done by camp experts and has earned this mark of distinction.
Is my child ready for Kid City Summer Camp?
In order to support the success and safety of all individuals registered and participating in Kid City summer camps, it is important that participants are indeed "camp ready," the following criteria have been developed:
Participant is able to participate in the camp program independently or with reasonable accommodations.
Participant is age appropriate (ages 5-12 yrs.) Participants may be aged up or down one grade level with director approval.
Participant is able to use the restroom independently or with minimal verbal prompting.
Participant is comfortable with, and able to interact in, a group environment.
Participant interacts and participates in camp in a manner that is physically and emotionally safe for themselves and others.
Our camps are inclusive, serving children with and without disabilities. Inclusion services are available for accommodation needs and support options for your child. Reasonable accommodation requests and registration must be made at least two weeks prior to the registration deadline.
For more information about inclusive services, contact the Inclusive Recreation Coordinator, Amy Shrake, at (812) 349-3747.