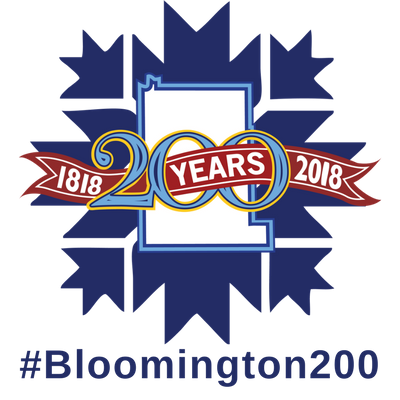 MESSAGE FROM MAYOR HAMILTON

Our Bicentennial is a milestone worth celebrating. An exciting 2018 in Bloomington and Monroe County will include meaningful, moving and educational events for residents of all ages. It's more than just a 200th birthday. We commemorate and honor the generations of people -- their hard work, generous spirit, and difficult choices -- that made this place what it is today. That helped make us who we are today. Our predecessors gave us a beautiful and valuable physical environment: bricks and mortar, parks and trees, pipes and reservoirs, streets and sidewalks, and streetscapes and vistas. They bequeathed to us as well the spirit and heart of our community -- our culture, our diversity, our creativity, and inclusiveness.
Our jewel of a city sparkles with an energy and shine that reflects 200 years of grit and ingenuity, creating this "Blooming Town" out of a wilderness, surviving civil war, social fractures, economic depressions, and a thousand forks in the road that cumulatively add up to today. As we celebrate, let's resolve to take the best of the past 200 years and use those lessons and inspiration to drive our choices and actions today. With this Bicentennial let's rededicate ourselves to those values of fairness, charity, kindness, ingenuity, innovation, education and good old-fashioned hard work that brought us here. As we pass the torch to the following generations, let's do our part to pass along a healthy, humane and thriving community, so the next milestones will inspire celebrations as well.

Happy Bicentennial, Bloomington and Monroe County!
___________________________________________


CITY OF BLOOMINGTON BICENTENNIAL EVENTS CALENDAR
 
Bloomington Bike-centennial Ride
June 28 at Cardinal Spirits - Ride 5:30 p.m. - 7:00 p.m, Party 7:00 p.m. - 10:00 p.m.
Join the City of Bloomington for a family-friendly, casual, Bicentennial bike ride around Bloomington. Explore some great routes in town, and regroup at Cardinal Spirits for socializing after the ride.


Btown Boom! - Fireworks in Downtown Bloomington
July 3 -  Block party begins at 4 p.m. on the South side of the square, fireworks begin at 9:45 p.m.

Join us at B-town Boom! The block party and fireworks are an opportunity to celebrate the Bicentennial of the City of Bloomington and Monroe County while kicking off Bloomington's Fourth of July festivities. Block party will include food trucks, music and more! Cook Group and CFC Properties, in partnership with the City, are excited to sponsor this event!
Facebook Event  *  FAQ  *  Flyer


Fourth of July Parade
July 4 in Downtown Bloomington

The city's annual Fourth of July Parade with a Bicentennial theme: Where Memories are Alive!

Bicentennial on the B-Line: A walk through the past and into the future
October 6 on the B-Line Trail, Sixth Street to Grimes Lane

Take a stroll down the B-Line and take part in interactive displays that honor Bloomington's past, and showcase its present and future. Community organizations will highlight important events in history and look into the future of Switchyard Park.


Bicentennial 5K
November 11 at City Hall

Commemorate Bloomington's Bicentennial with a 5K run on the iconic B-Line Trail.
PAST CITY OF BLOOMINGTON BICENTENNIAL EVENTS
Bicentennial Kickoff Party
December 31, 2017, City Hall
Bicentennial Community Tree Sale and Sponsorship Program - SOLD OUT

Bicentennial Street Fair
April 29 from noon until 4 p.m. on Kirkwood Avenue
Celebrate our community with music, food, activities and togetherness.  Community organizations, businesses and individuals gather along Kirkwood Avenue to celebrate all that Bloomington has to offer.
200 Years of Bloomington Trees
June 2 in Bryan Park
Bloomington Parks and Recreation kicks off its summer concert and movie series with tree-themed entertainment. Live music with a leafy theme by Malcolm Dalglish and Billy B, and a screening of The Lorax at dusk.