Page last updated on September 5, 2021 at 5:00 pm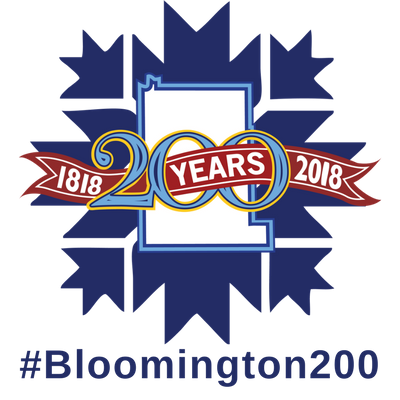 MESSAGE FROM MAYOR HAMILTON

Our Bicentennial is a milestone worth celebrating. An exciting 2018 in Bloomington and Monroe County will include meaningful, moving and educational events for residents of all ages. It's more than just a 200th birthday. We commemorate and honor the generations of people -- their hard work, generous spirit, and difficult choices -- that made this place what it is today. That helped make us who we are today. Our predecessors gave us a beautiful and valuable physical environment: bricks and mortar, parks and trees, pipes and reservoirs, streets and sidewalks, and streetscapes and vistas. They bequeathed to us as well the spirit and heart of our community -- our culture, our diversity, our creativity, and inclusiveness.
Our jewel of a city sparkles with an energy and shine that reflects 200 years of grit and ingenuity, creating this "Blooming Town" out of a wilderness, surviving civil war, social fractures, economic depressions, and a thousand forks in the road that cumulatively add up to today. As we celebrate, let's resolve to take the best of the past 200 years and use those lessons and inspiration to drive our choices and actions today. With this Bicentennial let's rededicate ourselves to those values of fairness, charity, kindness, ingenuity, innovation, education and good old-fashioned hard work that brought us here. As we pass the torch to the following generations, let's do our part to pass along a healthy, humane and thriving community, so the next milestones will inspire celebrations as well.

Happy Bicentennial, Bloomington and Monroe County!
___________________________________________

Bicentennial Year-End Celebration
You are invited to usher out Bloomington's bicentennial year with an all-ages celebration!
Join the City of Bloomington at City Hall from 5:30 until 8 p.m. on New Year's Eve Monday, Dec. 31 for food and festivities for the entire family!
Hands-on activities presented by WonderLab: New Year's Eve Noisemakers, Bursting New Year's Balloons,  Singing Celebration Glasses, Create a Keyboard, and Building into a New Year
Children's programs presented by the Monroe County History Center
Storytelling
BTown Conversations: What do you love about Bloomington?
Caricatures and wax models of your hand
Buffet-style hors d'oeuvres with water, tea, and lemonade
Items on display from a time capsule sealed on Bloomington's 175th anniversary in 1993
"Mock Midnight" speech by Mayor John Hamilton with special guest Gayle Cook, and balloon drop at 7 p.m.!
Music and dancing to DJ The Sound Machine
Commemorative bicentennial items including tote bags, pint glasses, Arbor Day posters and ornaments available for sale
Door prizes