Page last updated on June 23, 2022 at 4:29 pm
For more information, please contact
Bloomington Improves Accessibility with More ADA-compliant Curb Ramps; A New Griffy Hiking Trail is Being Constructed; and a Short Length of 17th Street is Closed Through the End of the Month
Bloomington, Ind. – Numerous infrastructure improvement projects are underway this season to advance community goals, including safety, sustainability, accessibility, equity, economic vitality, and quality of life in Bloomington. The City will provide regular public updates on a range of these improvements as they progress. City departments coordinate with one another, as well as with private developers, to minimize the impact on Bloomington residents and visitors. 
PARKS & RECREATION
Farmers' Market: Bollards at City Hall
Installation of safety bollards on Morton and 8th Streets began on June 20th and each set takes about four days to complete. Currently, The Morton Street entrance to the parking lot just south of City Hall is closed for bollard installation and work is scheduled to be complete by the end of this week. These bollards will separate Farmers' Market customers from vehicle traffic.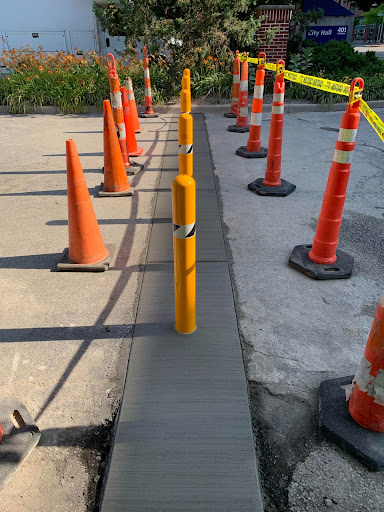 Griffy Lake Accessible Fishing Pier and Loop Trail Project
A contractor continues work on the construction of the first section of a new hiking trail from the south end of the causeway that will connect to the existing trails on the south shore of Griffy Lake. The trail remains under construction, and park visitors are asked to stay off the new trail until it is finished. Speed hump signs were installed along Headley Road last week. Future improvements are still planned along the north and south shore trails to mitigate or reroute eroded sections of trail and improve trail crossings of drainages into Griffy Lake. A formal dam crossing is also planned with a new set of stairs to provide access to parking on the west side of the dam. "Griffy Lake: A Golden Celebration" to dedicate the new sidepath and fishing pier, and to recognize the past 50 years of resource management at Griffy Lake, is scheduled for Friday, July 29 at 10 a.m.
Lower Cascades Trail and Streambank Stabilization Project
Bloomington's first public park, Lower Cascades, has a final walkthrough this week following a significant streambank erosion project and trail and accessible boardwalk construction. Fencing will remain at Lower Cascades to protect areas that were recently seeded. The "Celebrate Lower Cascades Park" event is scheduled for Sunday, September 18 at 1 p.m.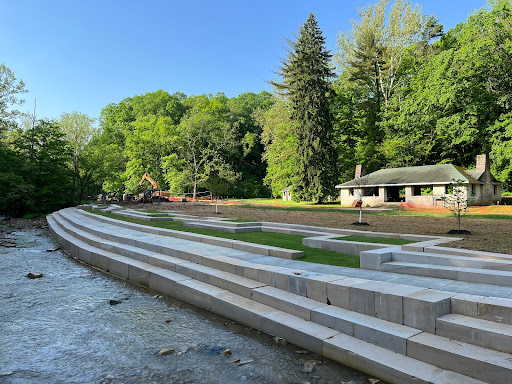 Park Ridge East Park
The Board of Park Commissioners at their May 24 meeting approved a contract with Lentz Paving to repair and resurface the tennis and basketball courts at Park Ridge East. Work is scheduled to begin as early as July. The courts will be closed during repair and resurfacing, then will be opened for 30 to 60 days, without lines, while the asphalt cures. The courts will be closed again to allow for painting and striping.
Waldron, Hill and Buskirk Park  
Repairs to the performance stage column are scheduled to begin soon; an official start date is not yet set. Playground equipment is delayed through at least July due to supply chain issues. 
ENGINEERING
North Walnut Street & 17th Street Lane Closures 
The sanitary sewer main work associated with "The Standard'' requires a full closure of 17th Street between Walnut Street and College Avenue until June 30th. After the work is completed at 17th Street, a single lane closure on North Walnut Street will remain between 15th and 17th Streets until August 12th. Impacts to the intersection of 17th and Walnut Streets are being coordinated with the City's multiuse path project on 17th Street. 
Hopewell Phase 1 East Demo
The City's Hopewell Phase 1 East project is the first step for the City of Bloomington towards the redevelopment of the legacy downtown IU Health Bloomington Hospital site. The project limits of the Hopewell Phase 1 East project are bounded by 2nd Street to the north, 1st Street to the south, B-Line to the east, and Rogers Street to the west.  The project will create development-ready lots by demolishing existing structures, re-platting the property, installing utilities, constructing streets, landscaping and bicycle/pedestrian facilities. Unlike the main legacy hospital site west of Rogers Street where IU Health is responsible for demolition, the City of Bloomington agreed to oversee the demolition of the former IU Health property east of Rogers Street.
After a successful bid for the demolition of the Phase 1 East project area, the apparent responsive low bidder on the project was Renascent, Inc. Their bid was approved June 21, at the Board of Public Works and the Redevelopment Commission meetings. Renascent, Inc. is headquartered in Indianapolis and is a certified 100% Women Business Enterprise.  Renascent is also the contractor for the IU Health demolition of the main legacy hospital site west of Rogers Street. Renascent has an impressive track record of successful demolition projects and looks to recycle a significant portion of the building materials removed from the site. The project is scheduled to begin in early July with a 60-day construction timeline. Additional information about the project and the contractor can be found at the following links: https://bton.in/mRp~I, hopewellbloomington.org & renascentinc.com/ 
UTILITIES
Hidden River Pathway Project
The two-year downtown stormwater infrastructure reconstruction project to prevent flooding during rain events will continue to necessitate closure of East 4th Street between Lincoln and Grant. The City will coordinate with other construction and road projects as they reconstruct 1,829 feet of culverts to protect downtown area residential and commercial buildings. 
Sycamore Knolls Stormwater 
City of Bloomington Utilities (CBU) has completed installing new stormwater infrastructure at the intersection of South Montclair Avenue and East Queens Way. The road is currently open. Curb restoration will occur next week, followed by road repaving. 
PUBLIC WORKS
Street Paving
This week the City of Bloomington Street Division milled and repaired a block of 3rd Street from Eagleson to Highland. They are now milling and paving the approaches on Union and 10th Streets and then moving to 7th Street from Union to Overhill, also milling and paving. Next week crews will be installing ADA-compliant ramps at 2nd Street and High Street.