Page last updated on June 23, 2022 at 11:56 am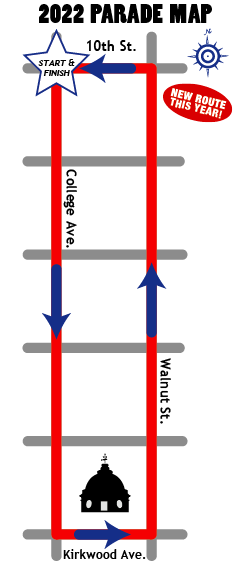 Monday, July 4
9 a.m. Bloomington Community Band on the Courthouse Square
10 a.m. Fourth of July Parade
Be a part of one of Bloomington's favorite annual events! Individuals, organizations, groups, and local businesses are invited to showcase their patriotism and love of the Bloomington community with an entry in the parade.
Entry fee is $25. Entries will be accepted through June 15 or until the maximum number of parade entries is received.
For parade information or to request an application, contact Bill Ream at 812-349-3748 or reamw@bloomington.in.gov.
Here is who you can expect to see in the Fourth of July Parade!
 
2022 Mandela Washington Fellowship
2022 Monroe County Fair Queen and Princesses
American Legion Riders Post 18
BEANPOLE The God of Pointless Behavior
Brandon Barrett - Indiana Farm Bureau Insurance & Salt Creek Tackle
Terry Bethel
Big Moe and the Watershed Moment
BioLife Plasma Services
Bloominglabs
Bloomington and Monroe County Human Rights Commissions
Bloomington Blockheads Roller Derby
Mr. Bloomington's Bunch
Bloomington Woolery Farmers' Market
Boy Scout Troop 100
Boy Scout Troop 148
BUGS - Bloomington United Gymnastics & Soccer
Constellation Stage & Screen
Cub Scout Pack 160
Cub Scout Pack 164
Culver's of Bloomington
DTID Pizza inc.
Ellettsville Police Department
Emily Salzmann for Judge
Exchange Club Northside Bloomington
Express Employment Professionals
Fire Dawgs Junk Removal
Funkhouser Real Estate
Grassroots Goofballs: 7th Inning Stretch
Hoosier Putt Hole
Hudsucker Posse
Immigration Justice Task Force
Independent Order of Odd Fellows, 166 Cecelia Lodge
IU Health Lifeline
Jackson Creek Middle School
Kiwanis Club of Bloomington
Kiwanis Indiana Balloon Fest
Lake Monroe Sailing Association Youth Sailing Camp
Carl Lamb for Judge
League of Women Voters Bloomington Monroe County
Libertarian Party of Monroe County
Lowers Family
Medicare for All Indiana
Monroe County Board of Commissioners 
Monroe County Community School Corporation
Monroe County Composite Squadron, Civil Air Patrol
Monroe County Democratic Party
Monroe County Girl Scouts
Monroe County Highway Department
Monroe County Republican Party
Monroe Fire Protection District
MotionArts Dance Academy
Orangetheory Fitness
Reverse Citizens United
Scottish Society of Greater Bloomington
South Central Community Action Program
Southern Indiana Pipes and Drums
Switchyard Brewing
Tandem Community Birth Center and Postpartum House, Inc.
WFIU WTIU News
Windfall Dancers