Page last updated on April 27, 2022 at 4:12 pm
Fitness Loop: A .8 mile, paved, wheelchair-accessible loop that follows the perimeter of Bryan Park.
Bryan Park Perimeter Trail Improvements Underway
Project Update: April 27, 2022
Contractors are on site this week finalizing new base asphalt in different areas of the park. Next week the final asphalt surfacing will be placed on the perimeter trail over ~3 days. Following the completion of the asphalt resurfacing, the boardwalks will be opened and the new concrete curb ramps at the Henderson Street parking lot entrance and the southeast corner of the park will be poured.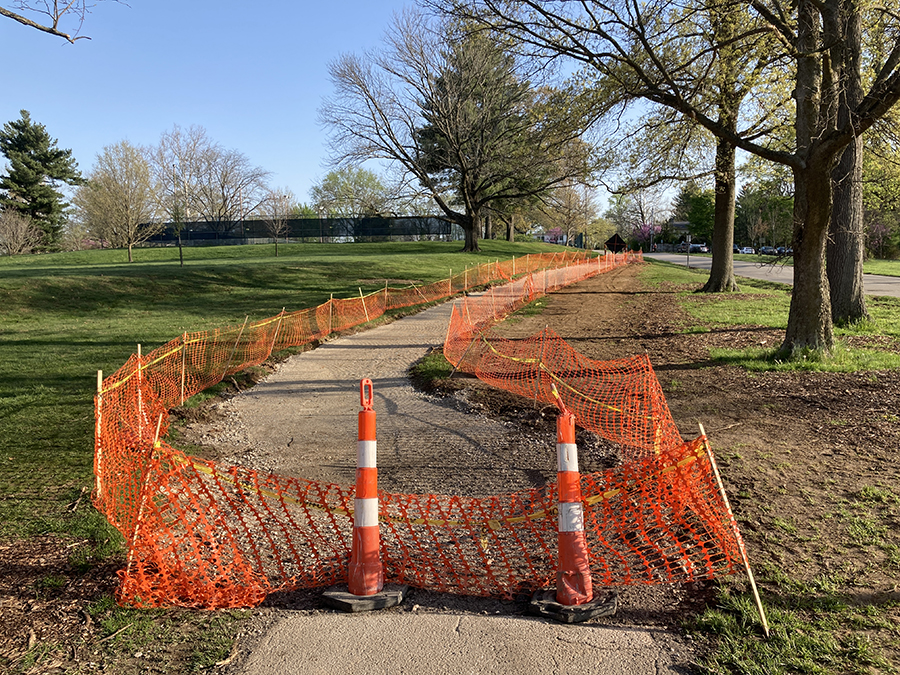 Project Background
The Board of Park Commissioners at their October 19, 2021 meeting approved a contract with Milestone Contractors to make improvements to the .8-mile loop trail around Bryan Park. Construction is scheduled to begin in April 2022.
This construction project will temporarily affect the accessible trail to Bryan Park's North Shelter. Contact the Bloomington Parks and Recreation Department at 812-349-3700 with specific questions about the availability of the shelter for rent during the spring season. In addition, the construction project may temporarily and periodically disrupt access to the Woodlawn Shelter.
Click here to see a drawing of the Bryan Park Loop Trail and the Improvement Features
This project, which includes significant consideration for the health of the mature trees along the trail, will make multiple improvements to the trail, and will include:
Asphalt overlay or replacement of the entire length of the .8-mile trail with necessary crack sealing and edging.
The construction of two boardwalks along the northern portion of the loop: one near the fitness station and another farther east near the uphill portion to the tennis courts. Both of these boardwalks will prevent construction damage and future damage to tree roots close to the trail.
Asphalt connectors to the fitness station.
Improved road interactions at trail crossings, including the installation of new concrete with ADA-compliant detectable warning plates at the north and south ends of the trail at the western playground parking lot, and at the park entrance at Woodlawn at the southeast corner of the parking lot.
Contract and Funding
A contract for $191,500 was awarded to Milestone Contractors for the construction of the loop trail, and a $18,100 contract was awarded to Rundell Ernstberger Associates (REA) for design and construction administration. The project is funded by a Parks General Obligation Bond.
Project Timeline
June 2021: Design & administration contract awarded to Rundell Ernstberger Associates
October 2021: Construction contract awarded to Milestone Contractors
April-May 2022: Anticipated construction
Streamside Trail: A ¼-mile, paved, wheelchair-accessible trail that bisects the park along the south side of Bryan Park Creek.