Page last updated on December 13, 2022 at 11:13 am
                                           City of Bloomington New Parking Citations & Envelopes for 2023!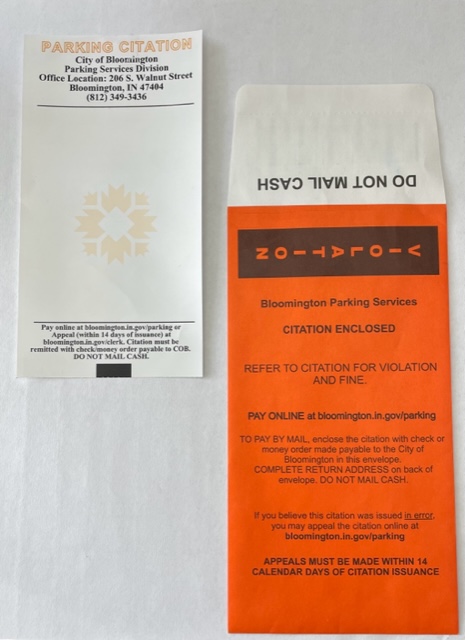 How to Pay Your Parking Citation
Please be aware that most fines will increase if not paid within 14 calendar days of the date of issuance shown on the ticket.
Pay your parking citation online. Click this link!
By Mail: Please enclose the citation and a check or money order payable to the City of Bloomington in the envelope provided to you.
Credit Card By Phone:  We accept Visa, Mastercard, American Express, or Discover by calling 812.349.3436.
IS YOUR CITATION IN COLLECTIONS?  
IF the citation(s) is not eligible to be paid, it will state under the header pay citation, "Citation cannot be paid", this indicates this citation has been sent to a collection agency due to the length of time it has been left unpaid.
Please contact Capital Recovery Systems at 1.800.693.6835 or 1.888.460.9955 or visit their website link https://paycapitalnow.com/. Their operational hours are Monday-Thursday 8 am-7 pm, Friday 8 am-5 pm, and Saturday 8 am to noon. Payment can be made by MasterCard, Visa, Discover, and Electronic Check. 
IF your citation(s) is in collection status, there is a 30% administrative fee added to each citation.  For example, if a citation is $60.00 there is an $18.00 (30%) administrative collection fee total cost would be $78.00. 
IF you are unable to pay your balance in full please inquire about a promise to pay plan from a Capital Recovery representative at one of the toll-free numbers shown above.  
HOW DO I FILE A PARKING APPEAL OR CHECK THE APPEAL STATUS?
Please contact the City Clerk's Office at 812.349.3408 or email clerk@bloomington.in.gov for instructions on how to file an appeal or to check on the status of an existing appeal. 
You have two choices for filing an appeal.  You may file an appeal in person at the  Bloomington City Building, 401 N. Morton St., Monday through Friday 8:00 am - 5:00 pm.
You may also fill out an online appeal form by going to this link, https://bloomington.t2hosted.com/Account/Portal to set up a parking account. Once you set up your account, you can proceed with filing an appeal. Please keep in mind that submitting an appeal does not guarantee a dismissal of your citation. 
For general questions about any parking citation(s), please contact the Parking Services office at 812.349.3436, Monday through Friday 8:00 am - 5:00 pm. or email customer.service@bloomington.in.gov.