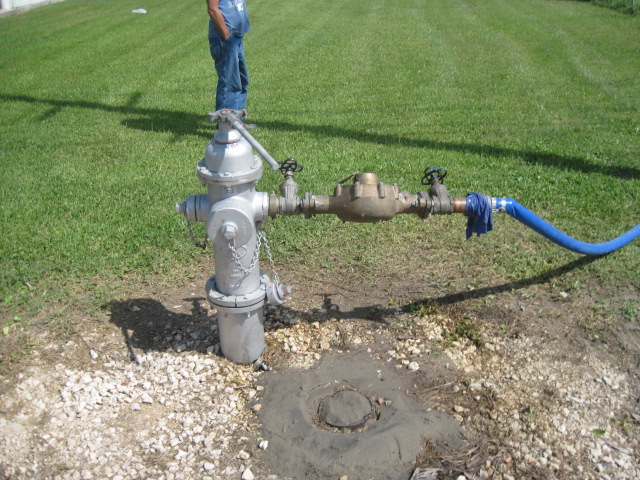 Hydrant Meter Rental:
CBU currently rents out hydrant meters for temporary use at construction sites.  There are a limited number of meters available for this purpose, and each rental requires a contract and deposit.  These meters require an initial deposit, monthly rental fees for the length of the contract, and a requirement for the contractor to call in the meter readings each month for billing purposes on whatever water is used. 

The entity/individual responsible for the meter is required to contact our Meter Services Department with monthly meter readings, and payment of the monthly billing statements. 

Deposit Amounts by Meter Size:

1" meter - $100.00

2" meter - $400.00

3" meter - $650.00

Any damage to the meter or its components MUST be reported to CBU immediately and returned for inspection and/or replacement.  Any mis-use of the device, intentional damage to the metering components, any other actions that results in damage to the meter, or obtaining water without use of the meter will result in fines & fees as provided in our Rules & Regulations.

Standard Detail #35 illustrates the required Air-Gap Separator when filling water tanks with potable water.

CBU will provide you with our Standard Detail #35 showing proper air-gap requirements, and a map of the closest hydrants that you will be authorized to use for your project. 

The contractor is responsible for supplying their own hose, and for complying with all Air Gap and Backflow Prevention Requirements when connecting to the public water supply.
Bulk Water Station:
Construction of CBU's first potable water station is complete. 

Location: 3220 S Walnut St (across from Toyota Dealership and N of the National Guard Armory)

The station is designed for customers who need to fill a large water tank, such as landscaping or power washing companies. The hydrant meter rental program CBU operates to meet this need will start being phased out in 2020. The bulk water station will be easier for customers to use, more efficient for CBU staff, and eliminate any potential for cross connection or backflow, which can pose a risk to the water supply.

The station will be open 24 hours a day and will charge a single rate to all customers ($3.16 per 1,000 gallons). The station accepts Visa, Mastercard, Discover, and Amex. Customers must utilize their own hydrant style hose if a hose connection is required; there is also an overhead filling option. 

Air gap requirements: The space between the supply pipe and the receiving port/pipe should be 2 times the diameter of the supply pipe.

Example: The discharge/supply pipe has a 2" diameter.  The air gap space between the pipe and the receiving port should be 4".