What is Youth Participatory Budgeting?
Youth Participatory Budgeting (YPB) is a democratic process in which young community members decide how to spend part of a municipal budget. Participatory budgeting has been shown to spark an interest among young people in the system and ideals of democracy and to increase the likelihood of their future engagement with local government. In the fall of 2018, the Bloomington Common Council approved Mayor John Hamilton's proposal to allocate $15,000 within the 2019 budget to a YPB initiative. YPB gives young people real power to make real decisions over real money.
How Does YPB Work?
Design The Process
Writing the rules is the first step of YPB. This is when we develop/review the guidelines that we put in place, and solidify how we want the process to go.
DURING THIS PHASE WE:
Develop a timeline and work plan for each stage of the process.

Assemble a Steering Committee that is representative of the community and includes members from underserved areas.

Communicate decision-making roles to the Steering Committee and the public
Brainstorm Ideas
During this phase, we collect initial ideas for community improvements from Bloomington residents.
Develop Proposals
Volunteers called delegates develop project proposal ideas with youth. We turn developed project proposals into a ballot for the public to vote on.
Vote
Community members in grades 7-12 vote on the top two projects from the ballot that they would like funded. Delegates tally the votes to find which project won overall.
Fund the winning proposal
Once the winning project have been identified, youth, City departments, and stakeholders work together to put winning projects in place.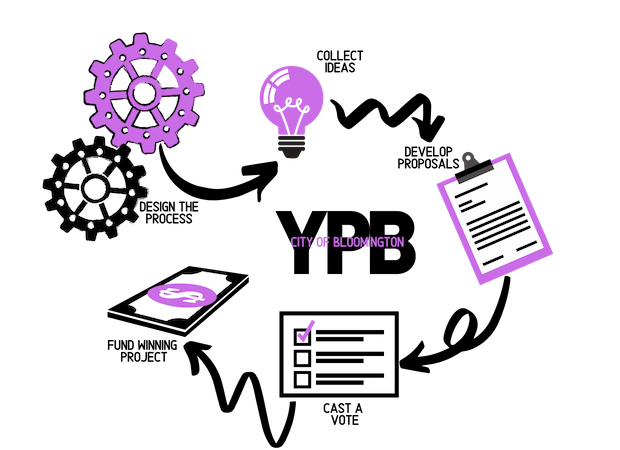 The Goals
Deep community engagement of youth

Youth expanding the YPB project

Awareness of community, government and issues

Improving relationship between youth and government

Build credibility in YPB project

Fund projects that have positive impact
The Principals
We strive to implement YPB according to the following principles:
1. Empowerment
Enable local young people to decide how YPB works in their community and across the city.
2. Transparency
Share information and make decisions as openly as possible.
3. Inclusion
Make special efforts to engage young people who face obstacles and are often excluded to participate.
4. Equality
Ensure that every young person can have equal power over public spending.
5. Community
Bring young people together across traditional lines of division, to work together for the good of the whole community.

Timeline 
✅ April - First meeting of the Steering Committee
✅ April through May - Develop the Rulebook
✅ End of May through Beginning of June - Delegate selection and orientation
        ✅ Orientation Dates: May 19th & 25th
✅ June through August - Idea collection among youth in grades 8-11
🔲End of August through Beginning of September - Proposal development (6 Meetings)
Stakeholder Summit: Date TBA

Presentation of YPB Project to City Council: August 14, 2019
🔲September - Voting
🔲Beginning of October - Tally Votes
🔲November 7, 2019 - Results announced
🔲November and December - Evaluation
🔲Throughout 2020 - Implementation and monitoring

Who Can Submit Ideas
🔵 Anyone is welcome to submit a project proposal who attends a Monroe County school and will be in grades 8-12 at the beginning of the 2019-2020 school year.
🔵 All proposals will be submitted online via an online form with criteria set forth by the steering committee.
🔵 Ideas for proposals will be collected starting June 3, 2019 through August 10, 2019.
Qualifying Proposals Must:
🔵 Be completed within the $15,000 budget
🔵 Benefit the general public
🔵 Fall under one of the following categories:
        ⌾ Arts/Culture
        ⌾ Education
        ⌾ Environment
        ⌾ Recreation
        ⌾ Social Concerns
        ⌾ Other
🔵 Funds can not be used to:
        ⌾ Fund salaries
        ⌾ Fund any for-profit organizations
        ⌾ Funds must be used in Bloomington City Limits