Page last updated on May 24, 2023 at 12:54 pm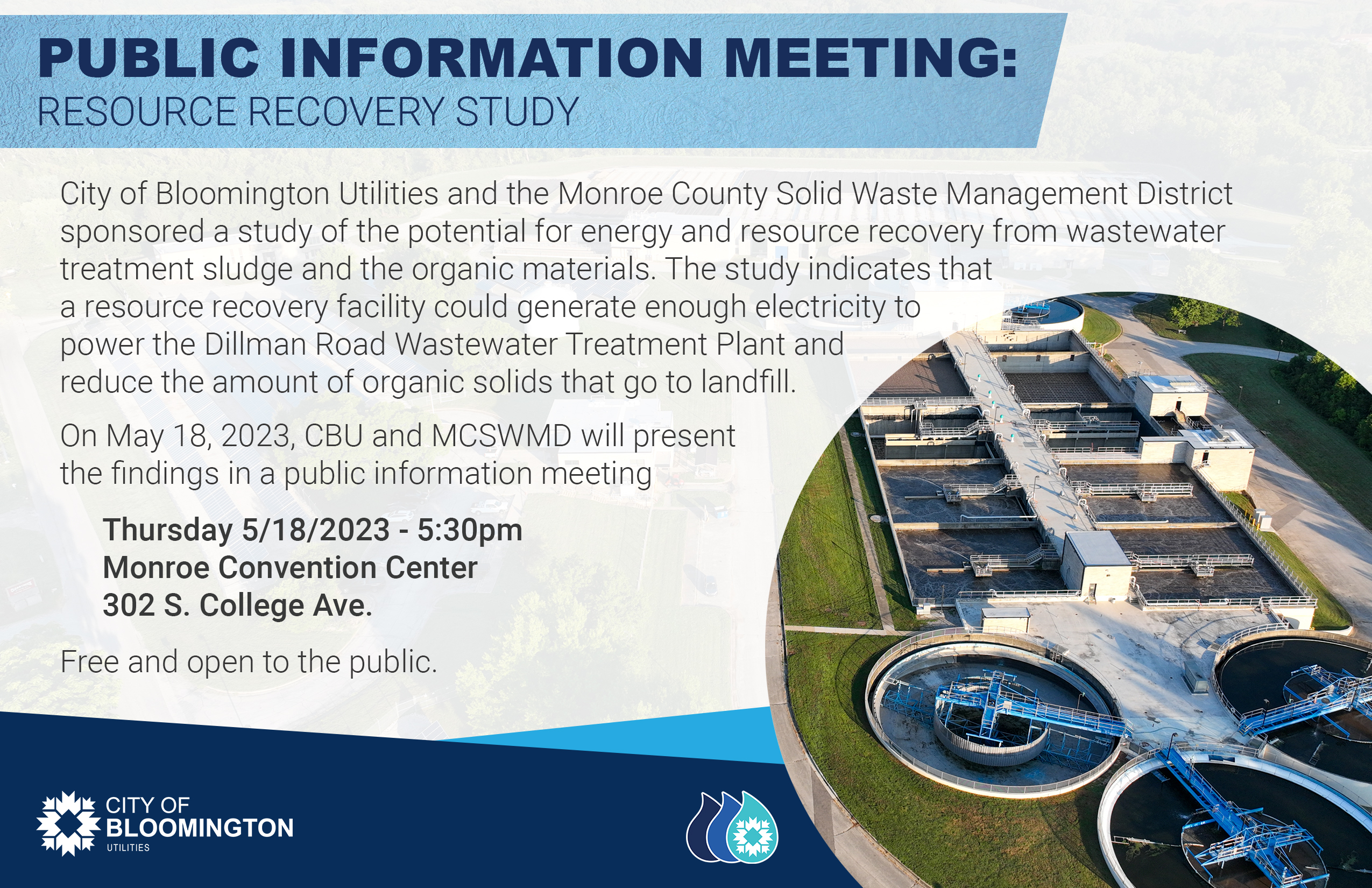 Public Information Meeting: Resource Recovery Study
THURSDAY, MAY 18, 2023 AT 5:30 PM EDT
Monroe County Convention Center 302 S College Ave, Bloomington
City of Bloomington Utilities and the Monroe County Solid Waste Management District sponsored a study of the potential for energy and resource recovery from wastewater treatment sludge and other organic materials. The study indicates that a resource recovery facility could generate enough electricity to power the Dillman Road Wastewater Treatment Plant and reduce the amount of organic solids that go to landfill. Please join CBU and MCSWMD for a public information meeting to present the findings. 
FREE & OPEN TO THE PUBLIC
Background
Mayor Hamilton first made mention of forming a potential task force to consider the feasibility of a renewable energy initiative at his 2019 State of the City address. The idea sprang forth from the desire to do our part to limit global climate change, while at the same time increasing our own energy sustainability and self-reliance. On Earth Day, April 22, 2019, Mayor Hamilton announced the formation of the Waste and Energy Task Force, convened to evaluate the technical issues and feasibility of such a project.

The system under consideration would involve the addition of an anaerobic digestion process at the Dillman wastewater plant, Bloomington's largest such facility, which could accept compostable waste and convert it into compressed natural gas, which would not only keep waste out of the landfill, but keep the compostable organic matter from releasing methane -- a greenhouse gas -- into the atmosphere.  Having performed those great preventive goals, this process could also net us a very useful by-product: compressed natural gas (or CNG).  A fuel source that is not only renewable but substantially cleaner than diesel, CNG could potentially power our municipal fleet -- from Bloomington Transit buses to sanitation trucks and snow plows.  

During the first phase of their inquiry, the Waste and Energy Task Force researched technical considerations involved in the adoption of this renewable energy system, investigated best practices of comparable systems in other cities, and mapped a cost analysis of this overhaul. Their report from March 2020 is available below.
Waste and Energy Task Force Members
Gwen White, Chair, Bloomington Council on Sustainability
Nancy Obermeyer, Board Chair, Bloomington Transit
Brian Noojin, Campus Bus Manager, Indiana University
Keith Thompson, Director of Energy and Utilities, Indiana University
Dave Rollo, President, City Council
Tom McGlasson, Director, Monroe County Solid Waste District
Vic Kelson, Utilities Director, City of Bloomington
Adam Wason, Public Works Director, City of Bloomington
Lew May, Executive Director, Bloomington Transit