This project will improve the intersection of 2nd Street and College Avenue.
Project Map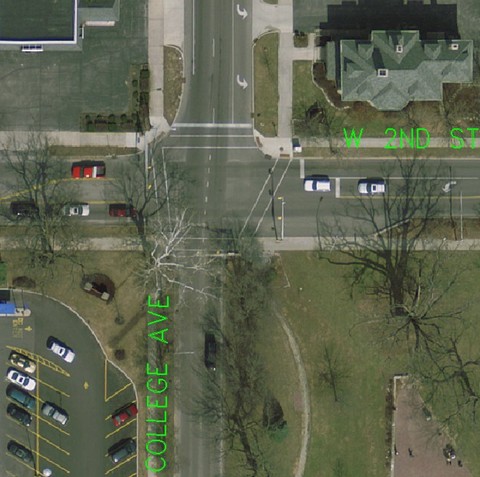 PROJECT DESCRIPTION
The existing traffic signal infrastructure will be replaced with modern equipment (e.g. signal backplates, flashing yellow arrow left-turn indications, green mast arms and poles, etc.) and supplemented with enhanced pedestrian and accessibility features (e.g. curb ramps, push buttons, countdown indications, etc.). Minor geometric changes at the intersection corners will also be considered.
The project is included in the Bloomington/Monroe County Metropolitan Planning Organization (MPO) Transportation Improvement Plan (TIP) and is eligible for federal funding through the Surface Transportation Program (STP). The project is programmed to receive $165,000 in federal funds for construction.
Parsons Brinckerhoff, Inc. has been selected as the design consultant for this project.
Michael Baker is the construction engineering consultant for this project.
Project Timeline
Design: 2016
Construction: 2017
Project Contact
Matt Smethurst
(812) 349-3423 or smethurm@bloomington.in.gov