This project will improve the signalized intersections of 2nd Street at Patterson Drive and Bloomfield Road at Adams Street to include pedestrian signal indications and buttons, crosswalks, accessible curb ramps, at least one signal head per travel lane, signal head backplates, and other geometric improvements.
Project Map: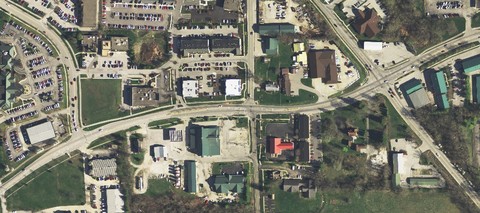 Project Description:
The project will also construct a gap in the existing multiuse path along the north side of 2nd Street/Bloomfield Road between Adams Street and Patterson Drive.
The project is included in the Bloomington/Monroe County Metropolitan Planning Organization (BMCMPO) Transportation Improvement Program (TIP) and is eligible for federal funding through the Highway Safety Improvement Program (HSIP), the Transportation Alternatives Program (TAP) and the Surface Transportation program (STP).
WSP - Parsons Brinckerhoff is the engineering consultant for this project.
HWC is the construction inspection consultant for this project.
Milestone is the construction contractor for this project.
Project Timeline:
Design: 2017-2018 (complete)
ROW Acquisition: 2018 (complete)
Construction: 2019 (expected to begin spring 2019)
Project Contact:
Neil Kopper
(812) 349-3423 or koppern@bloomington.in.gov