Page last updated on August 18, 2021 at 3:10 pm
This project will install a multiuse path on the east side of Henderson Street from Hillside Drive to approximately 650' north of Winslow Road (the continuation of this path to Winslow Road is being constructed as a part of another project, "Winslow-Henderson Path and Intersection Improvements").
Project Map: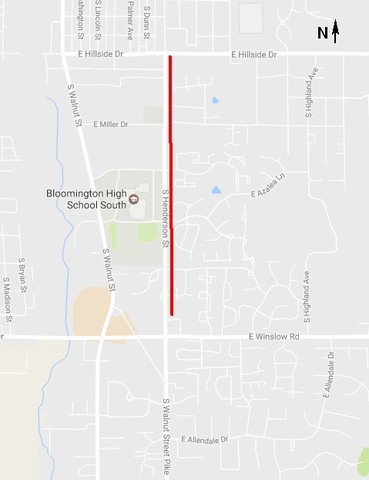 Project Description:
The project is included in the Bloomington/Monroe County Metropolitan Planning Organization (BMCMPO) Transportation Improvement Program (TIP) and is eligible for federal funding.
Eagle Ridge Civil Engineering Services has been selected as the engineering consultant to design this project.
Public Meeting Details:
The public meeting for this project has been scheduled as follows:
Wednesday, December 5, 2018
5:30pm - 7:00pm
CBU Board Room, 600 E Miller Dr
Participants are welcome to arrive at any time between 5:30pm and 7:00pm, but the presentation will begin at 5:40 and we will have time for questions and comments prior to and immediately after the presentation for anyone with specific questions or concerns.
Project Timeline:
Design: 2017-2018
Public Meeting: 12/5/2018
ROW Acquisition: 2019
Construction: 2020
Right of Way Clearing Quote Documents:
Project Contact:
Matt Smethurst
(812) 349-3423 or smethurm@bloomington.in.gov