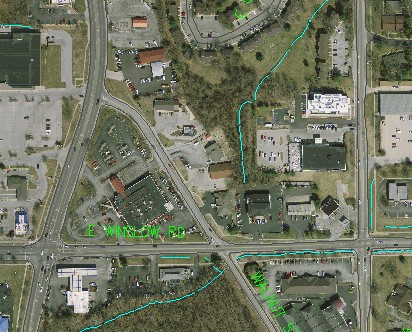 PROJECT DESCRIPTION:
This project will construct a new multiuse path on East Winslow Road between South Walnut Street and South Henderson Street, a new multiuse path on South Henderson Street from East Winslow Road to approximately 650 feet north of East Winslow Road, intersection improvements for East Winslow Road at South Walnut Street Pike, and short sidewalk connections to adjacent facilities as necessary.
The bicycle and pedestrian facilities included in this project will provide numerous connections between residents, businesses, transit routes, and other existing transportation infrastructure. The intersection improvements are proposed in order to enhance safety at a location that has experienced 18 right angle crashes within a 5 year period. Furthermore, this project will support an application for Low Income Housing Tax Credit funds by demonstrating a public infrastructure commitment within .25 miles of the housing site. Those funds would be used to construct the Crawford Apartments II which would be adjacent to the proposed multiuse path on South Henderson Street. This project is funded through tax increment financing (TIF) funds with approval by the Redevelopment Commission (RDC).
Improvements at the intersection of Winslow Road and Walnut Street Pike are proposed in response to complaints from users and a documented pattern of crashes at the intersection. The project will alter the southern leg of the intersection so that northbound vehicles on Walnut Street Pike will only be able to turn right (east) on Winslow Road and will not be able to go straight (north) or left (west). This work will also include safety and accessibility improvements for sidewalk and multiuse path users.
PROJECT INFORMATION:
PUBLIC INPUT:
A public meeting was held on Wednesday, August 10th, 2016 from 6:00pm - 7:30pm at the City Hall Council Chambers, 401 N Morton St. The City also collected feedback via mail, email, and in-person submittals for two weeks following the public meeting.
Winslow-Henderson Public Input. This document (PDF) provides a brief summary and responses to the input received regarding this project.
PROJECT TIMELINE (updated)
Design: 2016 (ongoing - CrossRoad Engineers, PC is the design consultant)
Public Input: Summer 2016 (complete)
Right of Way Acquisition: 2018 (complete)
Construction: 2019 (through spring 2020)
BID MATERIALS:
PROJECT CONTACT:
Matt Smethurst, Project Manager
(812) 349-3423 or smethurm@bloomington.in.gov
401 N Morton St, Suite 130; Bloomington, IN 47402