Want to know how residents are partnering with city departments to re-design the leaf collection program? You are in the right spot!
This page was last updated on Tuesday 1/7/21.
ABOUT THE PROJECT
In the 2019 budget hearings, the Bloomington City Council inquired about the cost and environmental sustainability of the current leaf collection service. In response to that question, the Office of the Mayor tasked the Director of Innovation with exploring the topic. The Director of Innovation assembled a cross-departmental group of city employees to work in collaboration with residents to evaluate the current service and use design thinking to co-design a new option. 
ACTION TIMELINE
February 2020 - Innovation Team "bootcamp" - initial user-centered-design training and initial data collection and research into leaf collection in other communities
March - June 2020 - Pause due to re-assignment of resources to address needs introduced by COVID-19 
July 2020 - Issue resident survey on the leaf collection service and interpret the results
August 2020 - Plan for community meetings
September 2020 - Open registration for prototype and pilot participation; community meetings #1 and #2; prototype selections
October 2020 - Prototype iterations; pilot selection(s); registration for pilot participation closed
November - December 2020 - Pilot implementation; observation and data collection from households, Sanitation and Street Divisions
January 26, 2021 - 6:30-8pm Community meeting #3, pilot evaluation and recommendation to Public Works for 2021 leaf management
STAY CONNECTED TO THIS PROJECT
There are many ways to stay connected to this project.
1 - Revisit this page! The date last updated is posted at the top.
2 - Attend Community Meetings - details are in the section below - the third meeting is scheduled for Tuesday, January 26, 2021 from 6:30-8pm
3 - Reach out to your Council Member. Not sure who represents you? See MyBloomington.
3 - Reach out to your Innovation Director Devta Kidd at kiddd@bloomington.in.gov or 812.349.3552
Virtual Community Meetings 
In consultation with neighborhood leadership, the City of Bloomington invites Park Ridge and Spicewood neighbors to participate in a pilot program on leafing. The pilots will also gauge the impact to cost, workload, resident satisfaction, and the climate. Two community meetings were held in September. A third community meeting will be held in early 2021 to evaluate the efficacy of the pilot(s) and discuss recommendations for 2021. While the meetings specifically target the pilot neighborhoods, any interested resident is welcome.
Can't attend the meetings, but want to be involved in some way? No problem!  Email Innovation Director, Devta (DAVE-tuh) Kidd at kiddd@bloomington.in.gov or call her at 812.349.3552.
Meeting #1 - Setting the Stage - Wednesday, September 9, 2020  7-8pm
This first meeting introduced the problem we are trying to solve together, fielded questions, and provided information about how to be part of the solution.
View a recording of the meeting here.
See questions and comments posted to the Zoom chat here.
Meeting #2 - Brainstorming Solutions - Tuesday, September 15, 2020  7-8:30pm
This second meeting was a working meeting where intensive brainstorming, idea refinement, and confidence voting were done in small groups. Click here to see the ideas generated in this meeting that will move forward for consideration by the innovation team. 
Meeting #3 - Recommendations for 2021 - Tuesday, January 26, 2021 6:30-8pm
This third meeting will review the results of the 2020 pilot, the recommendation by the Innovation Team to Public Works for the 2021 leafing season, and gather input from you about how to optimize the implementation of the recommendation.
Join the Zoom meeting by computer or phone:
https://bloomington.zoom.us/j/98543097835?pwd=eE80OVZ3SjVZamxuRnExZHlacWdwZz09

Meeting ID: 985 4309 7835
Passcode: 368495
One tap mobile
+19292056099,,98543097835#
BACKGROUND INFORMATION AND FAQs
To keep leaves from clogging storm drains, causing flooding, and creating unsafe slick sidewalks, the City's Public Works Department uses two methods:
Pick up leaves bagged in yard waste bags or in approved yard waste carts that are set out with one's trash. Pick up of leaves in paper bags or carts is FREE during the months of November and December; pick up of paper bags or carts costs $1 per bag or cart to pick up throughout the year. Leaves in bags or in yard waste carts are transported to a composting site.
Collection of leaves using vacuum-equipped trucks that maneuver the City in November, December, and sometimes into January - depending on the weather. The City is divided into zones that the trucks navigate according to a published schedule and collect leaves that have been raked to the curb by residents. Collection by vacuum is free and these leaves are taken to a composting site.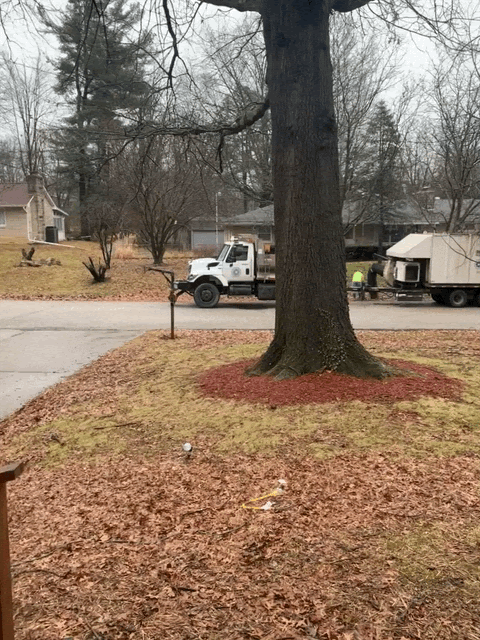 While a number of residents are very happy with this valuable service, there are some barriers to it being sustainable long-term:
Leaf collection is expensive - costing ~ $709k per year in equipment from the Street and Sanitation Divisions, labor from the Street and Sanitation Divisions as well as storm drain clean-out by City of Bloomington Utilities, fuel for both vacuum and yard waste trucks, and fees to the compost site.
It is very difficult to keep the program sufficiently staffed as the job is intensely physical.
Using diesel trucks that are running eight hours/day, five days/week for at least two months of the year is not in keeping with our climate action goals.
Leaves fall when they fall and people rake when they rake - neither of which may coordinate with when vacuum trucks are able to collect the leaves.
Because the vacuum-equipped trucks are also used as snow plows, a snow in November or December will delay leaf collection and the freeze will make it much harder to suck them up when the collection routes resume.
Because of the need to adapt to shifting weather conditions, the inexact schedule for when vacuum trucks will collect leaves is frustrating to most users of the service who call the City wanting to get more accurate information about their pickup date. The increased volume of calls is significant in the months of November and December.
Why Re-design Now?
In addition to barriers listed above preventing the program from being sustainable long-term, the leaf collection program is mostly funded by the Motor Vehicle tax. This is problematic for a few reasons:
The City's commitment to reducing green house gas emissions isn't compatible with a service whose existence and growth depends on a large amount of fossil fuel use.
As more city residents reduce their consumption of gas - either by converting to alternate transit methods or sheltering in place - the supply exceeds the demand, reducing the cost of gas and therefore the associated Motor Vehicle Tax revenues.
What is the cost per resident to operate the leaf collection service?
The cost to collect leaves is roughly $709K per year. If we assume that the service is available to ~14,000 single-family dwellings, the cost to operate the service is ~ $51/ participating household. Residents do not pay for this service directly; there are currently no additional fees for leaf collection in November and December whether the leaves are collected by vacuum or through the yard waste service. 
What is the difference between how much the service costs and how much is funded through the Motor Vehicle Tax?
In years' past, the Motor Vehicle Tax would cover ~ $526K of the ~$709K leaf collection service costs. The Motor Vehicle Tax cannot cover costs incurred by the Sanitation Division (which operates the yard waste service) or the City of Bloomington Utilities (which employs staff to clean out storm drains). The amount of funding available through this Tax fluctuates annually. With more people staying at or nearer to home during the pandemic in 2020, the revenue from that Tax is estimated to decrease by 40-50%. In order to meet our Greenhouse Gas Emission reduction goals, it is likely that the revenue from this tax will continue to decrease in future years. Click here for more information on the impact of COVID-19 on gas tax revenues and projects.
Who is on the Innovation Team?
Click here to see the current members of the team and their interest in the project.
What are the the problems we are trying to solve?
The main problems are the financial and environmental cost of the program as well as misalignment of the city service with climate variability and resident schedules.  
How do we know that's really the problem?
After defining groups of people who were highly interested in the service, greatly impacted by the service, or highly influential in the future of the service, the team set about interviewing these stakeholder groups. Insights from those in-person interviews were combined with results from a survey issued in July 2020 that collected input from 381 residents. Residents who responded to the survey in underrepresented areas of the city (the northwest and southwest quadrants) were contacted by phone for additional comment. Insights from all input confirmed the nature of the problem and offered initial suggestions.
What are we going to do about it?
The Innovation team has done some initial research into what other communities are doing; have conducted stakeholder interviews; have collected information via survey; held two community meetings in September 2020 to begin the process of partnering with two neighborhoods. The presidents of the Park Ridge and Spicewood Neighborhood Associations encouraged their participants to help brainstorm, select prototype ideas, refine the prototypes, and implement a pilot program for 2020. Pilot program volunteers will be asked to evaluate the effectiveness of the pilot(s) and help the Innovation Team determine recommendations for 2021 which may include an expansion of the 2020 pilot into other neighborhoods.
Click here to see a list of the ideas that were prototyped in October. 
What strategy was selected for the pilot?
Pilot households were asked to try to process as close to 100% of the leaves on their own property as possible and put only the EXCESS leaves in yard waste bins or bags for collection by the City's yard waste service. 
Click here for the content of the email sent to participating households.
Click here for the Mulching and Composting resources sent to pilot households including the video created by CBU.
Not sure when your yard waste pickup day is? visit MyBloomington.
How was the pilot strategy selected?
Research by the Innovation Team showed that most folks in Bloomington use a combination of leaf management strategies and many were unaware of how they could do more to keep the leaves on their property. This strategy addresses the barriers associated with financial and environmental cost of the current service, and aligns the service with both climate variability and resident schedules.
Is every resident expected to use the pilot strategy this year?
This option has always been available, however, the 22 participating households are being supplied with additional support and will in turn supply the city with data about the feasibility of this option - or a version of this option - as the future service.
So, are you doing away with vacuum trucks?
We don't know yet. What is being piloted is only one option. Results from this pilot will be one of the sources that we consult to make a decision about the future service. All interested Bloomington residents will be invited to a virtual meeting in late January where results from the pilot are presented and a future recommendation for the future service is discussed.
Am I a part of the pilot? Why don't I know anything about this?
Pilot participants volunteered and signed up in September and October and have a yellow sign in their yard that says "Proud Pilot Participant"
Why did you choose only Spicewood and Park Ridge neighborhoods?
These neighborhoods were selected because they have active neighborhood associations and we needed a way to centralize our communication. We are looking into ways to engage residents outside of official neighborhood associations for future projects. If you have thoughts about how to broaden engagement in future projects while keeping communication centralized, please contact Innovation Director Devta Kidd kiddd@bloomington.in.gov or 812.349.3552.
How is the pilot going?
Pilot households were surveyed weekly through December. Additionally, pilot households were supplied with an end-of-pilot survey. The combined results will be presented at the third community meeting scheduled for January 26, 2021 6:30-8pm. 
Join the Zoom meeting by computer or phone:
https://bloomington.zoom.us/j/98543097835?pwd=eE80OVZ3SjVZamxuRnExZHlacWdwZz09

Meeting ID: 985 4309 7835
Passcode: 368495
One tap mobile
+19292056099,,98543097835#
FOR MORE INFORMATION
Contact Innovation Director Devta (DAVE-tuh) Kidd at kiddd@bloomington.in.gov or 812.349.3552