Page last updated on August 16, 2023 at 3:55 pm
Improving water quality while reducing flood risk.
Adopt-a-Drain is a local volunteer program that provides the public with an opportunity to be actively involved in clearing storm drains.  The endeavor strives to improve the water quality of our streams while reducing flood risk in our community.  As storm drains lead to streams, the best times to inspect drains are before it rains. 
Where do our storm drains ultimately go?  Watch this "one-minute video" to find out... (Hint:  We all live in a watershed!)
See the City of Bloomington's growing YouTube Stormwater Playlist, "CBU STORMWATER VIDEOS", here.
Press Release (November 17, 2022):  Fall and Winter Tips: Options for Leaves, and Keeping Sidewalks and Storm Drains Clear
The only prerequisite for Adopt-a-Drain is to have a genuine concern for the well-being of our community.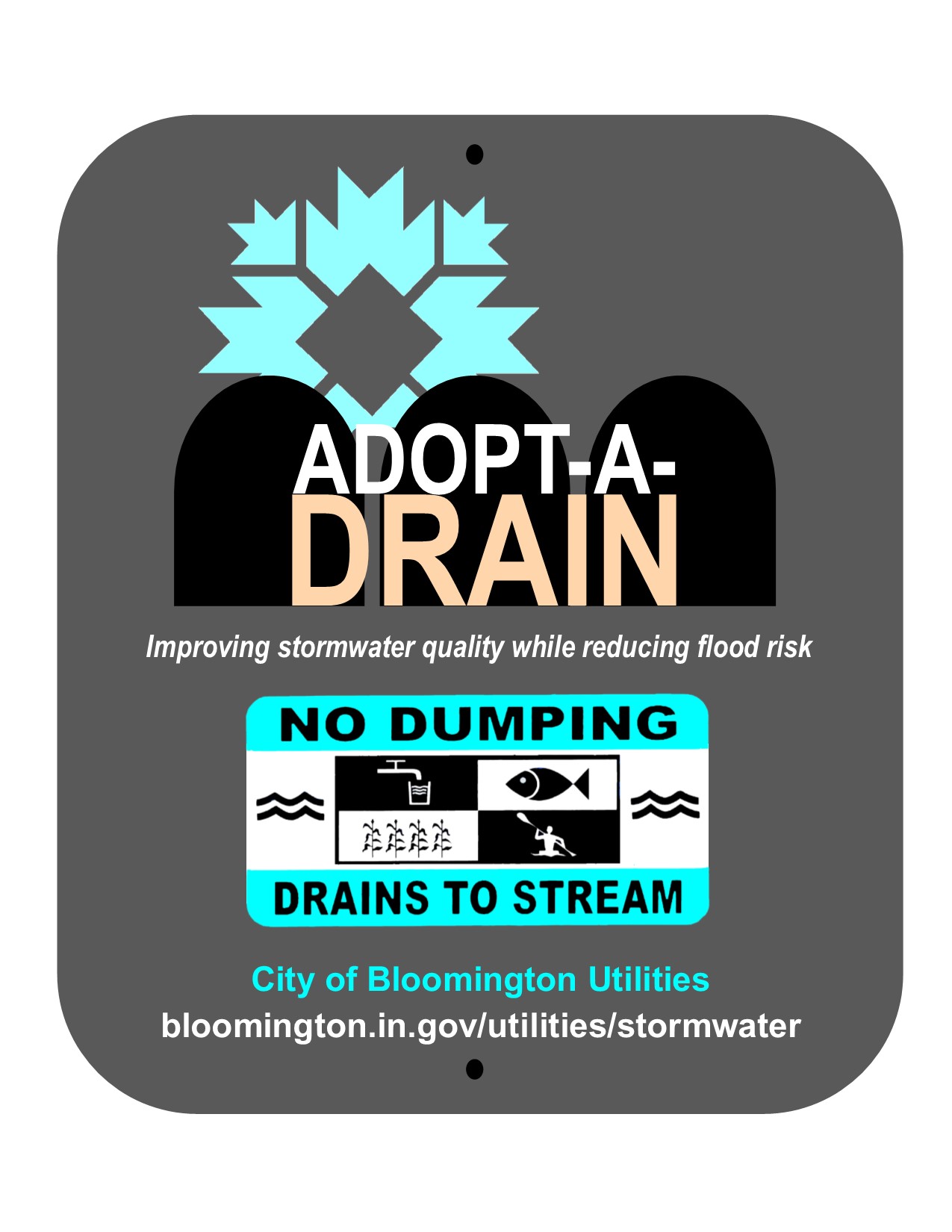 Duties include: 
Inspecting storm drains at least once per month
Clearing storm drains when needed 
Completing and submitting Adopt-a-Drain Quarterly Reports 
To apply, simply fill out the Volunteer Sign-up form.  We will receive notification that you have completed the form and be with you asap. Staff will answer questions, provide training, and offer an attractive yard sign (at this time, you will also be asked to sign a liability waiver).  Then, you will be ready to start!  We ask that you check on your drain periodically, especially before it rains.
The Inspection Report form is due on the first day of the month following the quarter:
First Quarter:  January 1 - March 31, Report due April 1
Second Quarter:  April 1 - June 30, Report due July 1 
Third Quarter:  July 1 - September 30, Report due October 1
Fourth Quarter:  October 1 - December 31, Report due January 1
Monthly mini "newsletters" will be sent to remind you to check your drain and offer timely tips for the season.  
More information on the program can be found on the Press Release and in the the following:
An overview of stormwater management for homeowners (although written for a different area, it contains good information that can be inferred for Bloomington)  Homeowners Guide to Stormwater
Thank you.  We look forward to keeping our waterways clean and healthy with you and yours.
---
Back to the Stormwater home page
To report a stormwater concern, use the uReport website (Video:  How to fill out a stormwater-related uReport - 0m:47s.)
For more information on stormwater, in general, please visit our Stormwater Education page
For information helpful to homeowners, including Residential Stormwater Grants, please visit our Stormwater Resources for Homeowners  page