Page last updated on May 6, 2022 at 9:55 am
The parking pay stations were installed and operational in March 2020.
The hours of enforcement for all downtown meters are Monday through Saturday, 8 a.m. to 9 p.m.
How it Works
Look at the Pay Station screen and find parking rates, hours, time limits, and other important information. If the screen is dark, press any button and it will light up.
Either enter plate number or insert debit/credit card. IntelliTouch will prompt you through the remainder of the transaction.
With the [+] and [-] buttons, select your payment amount.
If paying with coins exact change is required, and coins WILL NOT be returned.
If paying with a debit or credit card, wait for authorization of the card. Visa, MasterCard,  and Discover are accepted.
Press the [OK] button to confirm your payment, or [CANCEL] button to stop your transaction. The meter will attempt to authorize the payment shown on the screen if neither button is pressed after 5 seconds.
The display will then show the amount of paid time approved and when your time is up or the meter will request another card.

To automatically receive your receipt

Go to MyParkingReceipt.com

Click Create Account

Enter your credit card, vehicle information, and license plate number

You will not receive a paper receipt.

Watch an instruction video–click here.

If using pay-by-phone with the ParkMobile option please go to your app store to download and follow the instructions to complete registration then start your parking session.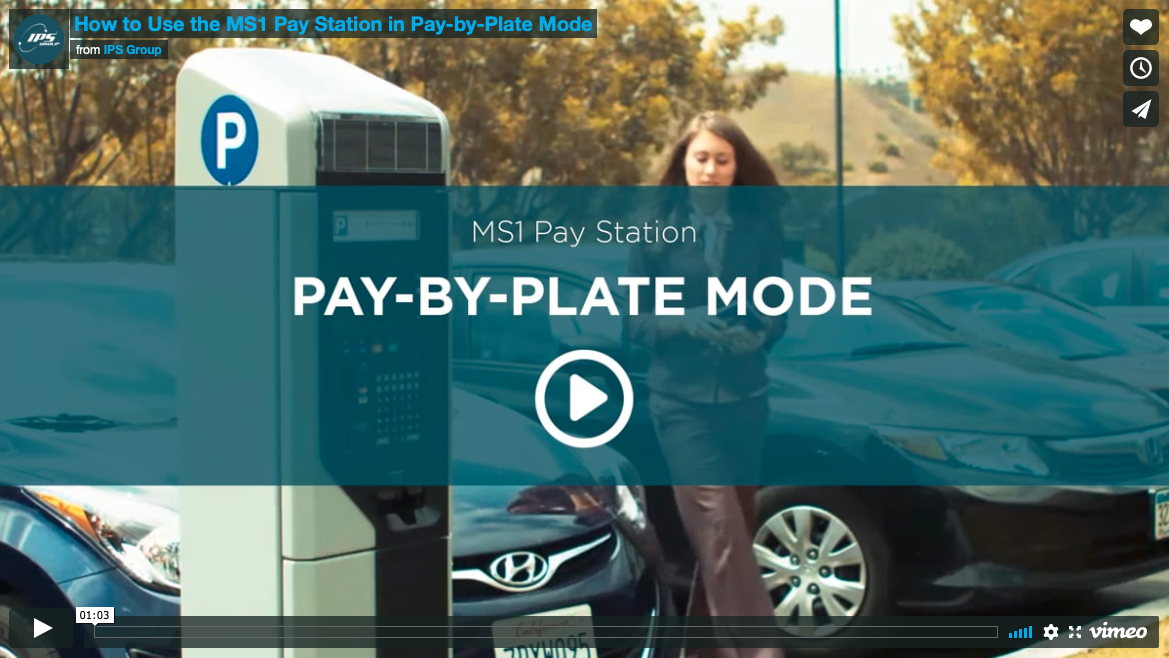 Printable Parking Station Brochure
Click here for the Parking Station Brochure.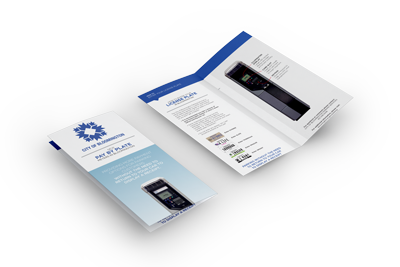 Using My Parking Receipt™
 
My Parking Receipt™ is a convenient website that allows customers to view, download and print their parking receipts paid at any IPS meter. My Parking Receipt™ offers:
Setting to automatically email parking receipts upon close of a transaction

One-time customer account set-up to simply access, view export and expense

User-friendly interface
Click here to watch a tutorial video about My Parking Receipt™.
Frequently Asked Questions
Why is the City installing new parking pay stations Lot 1 (4th & Dunn Street) and Lot 3 (4th & Washington Street) downtown?
For a six-month trial period, the City is replacing single-space meters at these locations with "pay by license plate" stations, which allow parkers to pay for their space in four easy steps and do not require returning to one's vehicle to display a receipt.  This implementation was informed by recommendations in the 2018 Downtown Area Parking Study conducted to improve the customer experience, efficiency, and convenience of downtown parking.   The pilot program will provide the City with better data on parking availability and turnover.  
When will the new parking pay stations be installed?
The parking pay stations were installed and operational in March 2020.
 When do I have to pay to park in front of a meter or in a pay station lot?
The hours of enforcement for all downtown meters and pay stations are Monday through Saturday, 8 a.m. to 9 p.m.
What forms of payment do the pay stations accept?
The pay stations accept coins, MasterCard, Visa, Discover, Apple, and Google pay.  Alternatively, parkers may pay by using the "Parkmobile" App at the two parking station locations, as at all the single-space meters downtown.  
How much will it cost to park in a pay station lot?
Your total parking fee will depend on how long you park. The current rate for parking at any meter or using pay by phone services is $1.00 per hour. If you are using a credit card, there is a minimum purchase of $1.00.
Is there a fee for using a credit card at meters or pay stations?
Yes, there is a $.30 convenience fee to use a credit or debit card with all meters downtown. Additionally, there is a minimum parking session of one hour required when paying by credit card.  
Is there a fee to use the pay-by-phone with ParkMobile?
Yes, Parkmobile applies a convenience fee which can vary from $.40 to $.50 depending on the user's membership preferences.
Can I get a receipt for my credit card payment at a new parking meter?
Yes. Visit https://www.myparkingreceipts.com/ and enter the requested information. A PDF receipt will be generated for the parking transaction(s) found for the credit card. You may also use the "Login" link to register your card; once that is done, you'll automatically receive a receipt by email each time the card is used.  
How long will the pay station trial last? 
The trial is for six months (which has been extended due to COVID-19).
How does the City plan on tracking the feedback about their parking experiences in these two facilities? 
The trial will last at least six months (which has been extended due to COVID-19 and to collect more customer feedback. We encourage users to click here to take a short survey and tell us about their parking experience using this new service. This information will be used to gauge the customer experience to determine the program's continuation as part of downtown parking services.
Questions?
Contact Parking Services Director Michelle Wahl at michelle.wahl@bloomington.in.gov or 812.349.3517