Page last updated on August 14, 2023 at 10:34 am
In celebration of Earth Day 2023, the City of Bloomington's Department of Economic and Sustainable Development will be hosting an Earth Day challenge from April 1st to April 21st. To celebrate the end of the challenge, ESD, in partnership with Go Bloomington, will host an Earth Day Celebration at Switchyard Park the afternoon of April 22nd. To learn more about these events, and other community wide events that will take place in April, see the "Community-Wide Events" section below. 
This site will be updated periodically to reflect event updates and new information regarding the upcoming challenge. Interested residents should continue to check back for more information in upcoming weeks.
Earth Day Bingo Challenge
Beginning April 1st, community members can participate in the Earth Day Bingo Challenge to win prizes for completing sustainability activities and tracking progress on Zero In Bloomington, the City's community climate action platform. Challenge activities will relate to 5 sustainability categories: sustainable shopping, food and waste, transportation, energy, and greenspace. The board can be seen below, and is also attached at the bottom of the page for those that would like to download their own copy.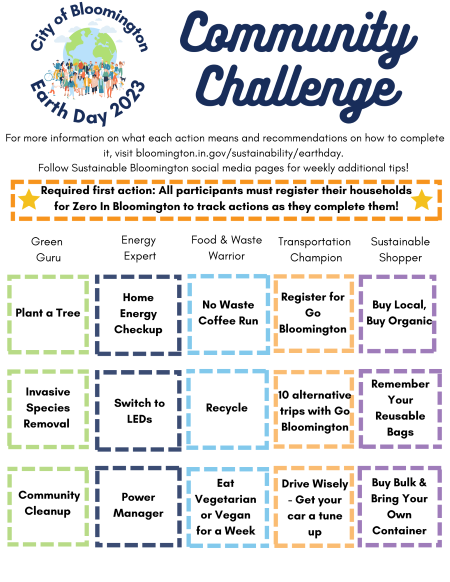 How To Play
In order to participate, participants must complete one qualifying action from each category (listed in more detail below) and submit pictures to the challenge submission form linked here. Completing bonus actions can earn you bonus entries for winning prizes, as can posting your participation photos on social media using the hashtag #ZeroInBtown.
Once you have submit proof of action completion, you will be entered into a drawing to win cool prizes such as sustainable designer products, gift cards to local shops, artwork from a local Bloomington artist, and more! Top participants will have the opportunity to win the grand prize, a sustainable staycation at the Net Zero Tiny Home in South Bend, Indiana, which will be awarded at the Earth Day event (see below for event details). 
All participants must be registered for Zero In Bloomington to participate. For more information about Zero In and registration instructions, please visit bloomington.in.gov/sustainability/zeroin.
Qualifying Actions 
Green Guru Actions 
Plant A Tree

Attend a Tree Planting Event with CanopyBloomington

Corresponding Zero In action: Plant A Tree

Donate to Canopy Bloomington for a Tree Planting 

Corresponding Zero In action: Plant A Tree

Native Planting/Invasive Removal

Community cleanup

Attend a Shoreline Cleanup with Friends of Lake Monroe 

Corresponding Zero In action: Volunteer for a Local Effort 

Pick Up All the Trash in your Neighborhood/Local Park

Corresponding Zero In action: 
Energy Expert
Home Energy Checkup 

Sign Up for a FREE Home Energy Checkup with Duke Energy ($180 Value)

Corresponding Zero In action: Home Energy Checkup 

Review Your Duke Home Energy Report and commit to 1 additional Zero In action based on your recommendations

Corresponding Zero In action: Home Energy Checkup 

Switch to LEDs

Switch At Least 2 Bulbs to LEDs

Corresponding Zero In action: Switch to LEDs

Power Manager

Sign Up for Duke Energy's Power Manager Program 

Corresponding Zero In action: Participate in Energy Demand Response 

Adjust Your Thermostat During Peak Demand

Corresponding Zero In action: Participate in Energy Demand Response
Food and Waste Warriors
No Waste Coffee Run 

Visit a Local Coffee Shop, Bring Your Own Mug, and Say No to Straws

Corresponding Zero In action: Bring Your Own Mug, Say No to Straws
               💙Local Options: Hopscotch Coffee, Crumble, Inkwell, Soma, Needmore, Brilliant, Cup & Kettle
Recycling 

Recycle for a Week and Drop it Off at a Local Recycling Drop Off 

Corresponding Zero In action: Recycle 

Eat Vegetarian or Vegan

Cut Out Meat/Animal Products for a Week

Corresponding Zero In action: Eat Lower Down the Carbon Food Chain
              ⭐Resources: Visit a Local Vegan/Vegetarian Bloomington Restaurant 
              💙Local Options: The Owlery, Soul Juice
Transportation Champion 
Register for Go Bloomington 

Corresponding Zero In action: Combine Trips Drive Less, Take The Bus, Bike Walk Hike 
               ⭐BONUS ACTION: Get a Friend to Register 
Log 10 alternative trips on Go Bloomington 

Corresponding Zero In action: Combine Trips Drive Less, Take The Bus, Bike Walk Hike 

Drive Wisely - Tune Up Your Car

Fill Up Your Tires

Corresponding Zero In action: Drive Wisely

Get a Full Tune Up

Corresponding Zero In action: Drive Wisely 
Sustainable Shopper
Buy Local, Buy Organic 

Shop at a local, natural, grocery store 

Corresponding Zero In action: Buy Local, Buy Organic
              💙Local Options: Bloomingfoods, Rose Hill Farm Stop
Remember Your Reusable Bag

Buy or Bring Reusable Bags for your Shopping Experience 

Corresponding Zero In action: Remember Your Reusable Bag 

Buy Bulk & Bring Your Own Container

Bring Your Own Containers to a Refill/Bulk Shop 

Corresponding Zero In action: Skip the Packaging 
              💙Local Options: Bloomingfoods 
SAVE THE DATE: City of Bloomington Earth Day Celebration 
April 22nd 1:00-5:00pm, at Switchyard Park
The City's Earth Day Celebration event will be hosted by the Economic and Sustainable Development (ESD) team to celebrate both Earth Day and the kickoff of Bike Month! Food and drink vendors will be present, and there will be raffle prizes for participants and attendees. ESD, in collaboration with Greater Indiana, will also be hosting an electric vehicle (EV) showcase during the celebration, which will display a variety of EV vehicles, and allow attendees to demo an electric vehicle charger, learn about incentives for EV owners, ask the experts any questions, and talk to other local drivers about EV ownership. If you own an EV and are interested in being a part of the showcase, please fill out this interest form. Registration will not be required, save the date and check back soon for more event details! 
Organizations that are interested in having a booth at the Earth Day event may fill out the vendor interest form. Final vendor selection will be made March 29th. 
Go Bloomington 
Our Go Bloomington partner is the City's platform for alternative mobility options to advance a more sustainable Bloomington by lowering the number of single occupancy vehicles in our community. In advance of National Bike Month, Go Bloomington will be co-hosting the Earth Day event by leading a bike tour, having an e-bike giveaway for registrants, and more! Register for Go Bloomington to learn more.
Community-Wide Events
Community-wide Events 
Orchard Work & Learn Days
Starting April 1st, at Winslow Woods Park (1:00-4:00pm)
Every Saturday, the volunteer-led nonprofit Bloomington Community Orchard hosts community members interested in cultivating the flagship orchard site and learning about the skills needed for growing fruit trees. No prior experience is required to participate, and the harvest is available to everyone. Discover more at the Bloomington Community Orchard's website.
MC MGA Garden Fair
April 15, at Switchyard Park Pavilion (9:00am-4:00pm)
The Monroe County Master Gardener Association invites Bloomington residents to their third annual garden fair, where local vendors will sell garden related products and homemade goods. Come browse, munch, craft, and learn. The first 300 guests attending will receive a gray dogwood seedling to take home.
Earth Week Creek Cleanup
April 16, at Sherwood Oaks Park (2:00-4:00pm)
This Jackson Creek cleanup brings the community together to remove trash and invasive species from a local waterway. The city provides the supplies; you provide the enthusiasm. Sign up by April 12 to participate!
Tree Seedling Pickup
April 19-22, at South Walnut Recycling Center's Admin Building (8:30am-5:00pm)
The Monroe County Solid Waste District, in conjunction with Canopy Bloomington, is giving away free tree seedlings during the second half of the week leading up to Earth Day. With volunteers to answer questions about proper tree planting techniques, you can stop by and pick up your free tree seedling while supplies last.
Tree Planting
April 21 and 22, at Clay Lick Creek (9:00am-4:00pm)
The Lake Monroe Water Fund is aspiring to plant 900 native trees and shrubs along the Clay Lick Creek to prevent erosion, and they need you! Join others aged 16 and up to plant trees in pre-dug holes at this community volunteer event in Nashville, IN. Bring your own gloves, boots that can get muddy, and dress for the weather. Rain dates are April 28 and 29. You can register for your preferred time slots before showing up.
Landscaping Earth Day Event
April 22, at Park Ridge East Park (Time TBD)
The landscaping division of Bloomington's Parks and Recreation department is hosting an Earth Day event at Park Ridge East Park. More details to come soon!
Plant Swap
April 22, at Bloomingfoods Near West (11:00am-1:00pm)
Get together with neighbors to exchange plants. If you have extra fruit, vegetable, herb, native landscaping, or house plants that you'd want to swap, come to Bloomingfood's Near West store with labeled plants and containers for new ones. Don't forget to RSVP.
Earthfest
April 22-May 13, at Bloomingfoods
To celebrate Earth Day and Fair Trade Day, Bloomingfoods is hosting Earthfest from Saturday, April 22nd to Saturday, May 13th. Earthfest will involve giveaways, special promotions, a plant swap, and a compost demonstration! Special offers include 20% off bulk when you bring your own container on April 21st or 22nd, $1 off La Riojana wine on May 12th and 13th, and Fair Trade product samples on May 13th from 2-4pm. Learn more about all the exciting activities Earthfest has to offer.
Shoreline Cleanup
April 23, at Paynetown State Recreation Area (2:00pm)
Every month, the Friends of Lake Monroe gathers volunteers to pick up trash along the lake to create a safer, cleaner, more enjoyable waterway. Hop in to help and learn more about the importance of our local lake at their April cleanup. Registration is preferred
Arbor Day Tree Giveaway
April 29, at both Bloomingfoods (10:00am-1:00pm)
Sycamore Land Trust has partnered with Bloomingfoods to host a native tree giveaway. Get one free tree seedling per person while supplies last. Pick from a variety of trees including: American Plum, Buttonbush, Blackgum, Black Chokeberry, Gray Dogwood, Red Oak, and more! Find out more about the hundreds of free trees being given away.
.
Volunteer Stewardship Day
May 6, at Porter West Preserve (1:00pm-3:00pm)
Sycamore Land Trust is gathering 20 volunteers to remove garlic mustard and litter from the Porter West Preserve. Remove invasive species, get to know others, and steward the Earth. To get more details and RSVP, visit this site.
Compost Demonstration
May 13, at Bloomingfoods East (1:00pm-2:00pm)
Have you been wanting to compost but never been sure how to start? This Composting 101 class is for you! This short demonstration will feature Elisa Pokral, Monroe County Solid Waste Management District's Community Outreach Coordinator, as she reveals the basics and wonders of composting. All ages are welcome. This event also includes a giveaway of two stainless steel compost bins! Be sure to RSVP in advance.
Habitat Connectivity Project
Date and Times Variable, at Winslow Sports Park 
Join the City in working to restore native habitat for pollinators, birds, and wildlife by heading over to Winslow Sports Park and helping remove woody invasive species. With multiple volunteer opportunities, this is a great way to get involved.
Educational Classes
Date, time, and location variable.
Did you know the City of Bloomington's Parks and Rec team offers a host of interesting classes on nature-related topics, from a how-to on seed starters to the basics of canoeing? With a fee of $5-10 per participant, these are a great opportunity to grab some friends and learn more about our planet. Find the full list of activities and their respective signup sheets here!