Page last updated on November 18, 2021 at 2:07 pm
Solar & Energy Efficiency Loan (SEEL) Program for Bloomington Nonprofits and Community Institutions 

* The 2021 program is no longer accepting applications, check back in January for more information about the 2022 program *
This loan program is a collaboration between the City of Bloomington, CDFI Friendly Bloomington, and IFF. IFF is a CDFI (Community Development Financial Institution) and a mission driven lender whose goal is to create opportunities for nonprofits and other community institutions such as schools, libraries, medical facilities, and grocery stores. The 2021 loan program will provide support for organizations to improve building efficiency through projects such as solar installation, appliance and lighting upgrades, and weatherization; with the goals of reducing utility costs and saving energy. Support is available through low-interest loans financed by IFF, grants from the City of Bloomington, and City-sponsored energy assessments. 
To help determine eligibility and to receive more information, please complete an intake form:
The intake form is available below. 
Submit the intake form by email to sustain@bloomington.in.gov or by mail to City of Bloomington, Department of Economic & Sustainable Development, 401 N. Morton St., Suite 150, Bloomington, IN 47404 
For more information about eligibility and program requirements, contact Brian Payne, Executive Director of CDFI Friendly Bloomington, at CDFIfriendly@cfbmc.org or  651-500-9968.
For general questions about qualified solar and energy efficiency projects, contact the City of Bloomington at sustain@bloomington.in.gov or 812-349-3418. 
Types of project support:
Loans - Low interest loans are available through IFF and Hoosier Hills Credit Union to help fund solar and energy efficiency projects.
Grants - The City of Bloomington will provide grants to help organizations meet the equity requirements of the IFF loans, as well as to help cover project costs. These grants may range from $2,500- $10,000 per organization and will not exceed 50% of the total project costs. 
Energy efficiency assessments - IFF and the City of Bloomington will work with the grantee to schedule a facility energy assessment, and the City will cover the cost of the energy assessment after the intake form and the letter of commitment are completed. 
Eligible organizations are:
Nonprofits
Schools
Nonprofit early childhood centers
Libraries
Medical facilities
Grocery stores
Eligible projects include: 
Solar panel installation
HVAC replacement
EnergyStar appliance upgrades (refrigerators, washers, dryers, etc.)
Lighting upgrades
Water heater upgrade
Air/duct sealing
Insulation/weatherization
Window replacement
 
Prospective funding applicants to the SEEL program attended a webinar on Thursday, February 11 at 1 p.m. 

The Zoom recording of the webinar is available at this link: https://youtu.be/BQC_z8AXWFU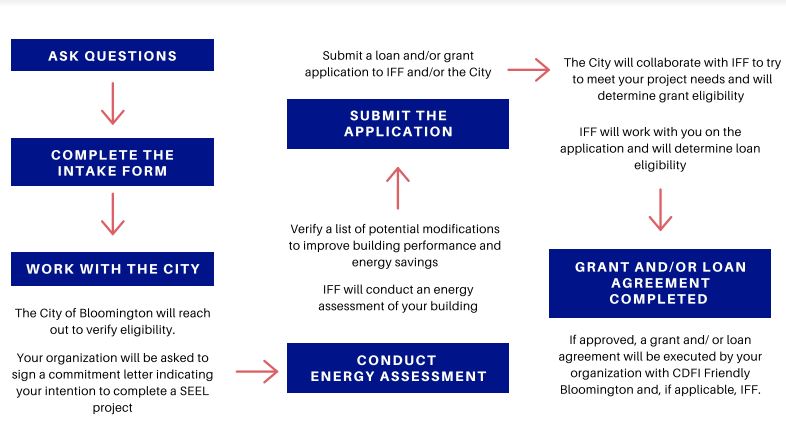 Updated 10/28/2021