Page last updated on January 10, 2023 at 11:29 am
A Certificate of Appropriateness is required to make any external change to a protected structure in a Local Historic District and to move, demolish or build a new building in a Conservation District.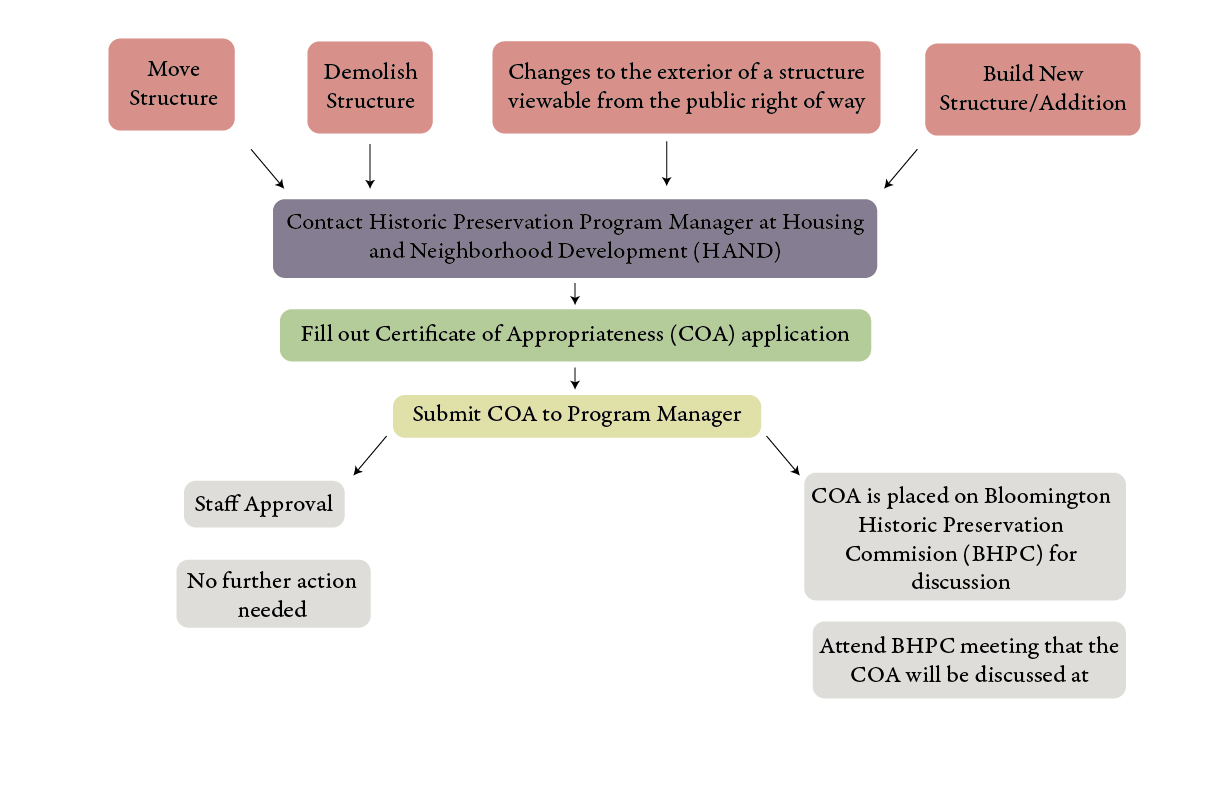 How do I apply for a Certificate of Appropriateness (COA)?
If a property is located in one of the districts on the Historic Districts Map, it is subject to review by the Historic Preservation Commission through the Certificate of Appropriateness process. You can find the additional information about the historic and conservation districts, maps and guidelines at Local Historic Districts.
For any questions regarding historic properties or local designations, please contact Gloria M. Colom Braña, the Historic Preservation Program Manager for the City of Bloomington, at (812) 349-3507 or gloria.colom@bloomington.in.gov.
Requirements for submittal:
Meet with the Historic Preservation Program Manager (Can be via phone or teleconference)

Fee: No fee is required for submittal

Required documents:

Application form for Certificate of Appropriateness (Fillable PDF) [A physical copy can be attained a the Housing and Neighborhood Development Department]

Between 3 and 5 photographs of the historic site and/or structure before changes

Sketches, drawings, or photographs showing the proposed exterior alterations, additions, changes, or new construction

A map of the site with the site boundaries indicated (GIS imagery from sites such as Elevate or Google Maps are acceptable)

A description of the work and materials

In the case that the historic district in which the property is located has a construction subcommittee, it is highly advisable to contact and review your project with said committee before submitting the application. Contact information for the committee representatives is available upon request from the Historic Preservation Program Manager

The following historic and conservation districts currently have construction subcommittees that review proposals before the Historic Preservation Commission meetings take place:
The complete application will be reviewed at the next regularly scheduled Historic Preservation Commission meeting.
Where do I go?
Historic Commission meetings are scheduled the second and fourth Thursday of every month and are held in the McCloskey Room (135) of Showers City Hall at 5 PM. You or your representative should plan to appear to answer questions. 
Meetings are currently being held via Zoom. The link can be found on the City Calendar under Bloomington Historic Preservation Commission on the scheduled meeting dates.
Please follow the link below to view the 2022 schedule of Historic Preservation Commission meetings:
What do I receive if my COA application is approved?
A Certificate of Appropriateness is much like a building permit. It should be displayed in your window while work is in progress. If your work also requires a building permit from the Monroe County Building Department, the COA should be attached to that application.