Matlock Heights is the first mid-century historic district in the state of Indiana. Curvilinear streets, wedge-shaped lots, and single-story ranch houses are characteristic of mid-century design. This neighborhood is dramatically different from all other Bloomington districts designated as historic. It is immediately evident, as you enter the neighborhood, that you experiencing another era.
HISTORY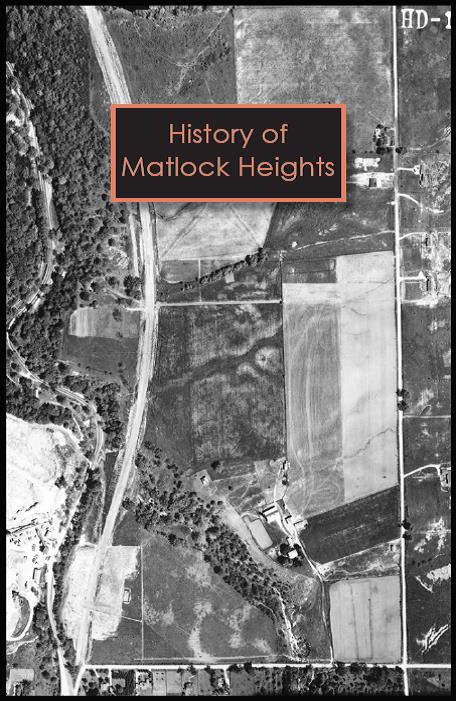 Matlock Heights homes reflect the change in American values that occurred when GIs began returning home after World War II. Housing construction in the U.S. was minimal since its collapse during the Great Depression. The new designs were distinctive. Rambling floor plans, expanses of windows, and curvilinear streets expressed the aspirations of a generation who sought to live in nature rather than in the increasingly congested cities. They were encouraged by the new media through national marketing in magazines, movies, and television shows.
The romance of the west: its open spaces, independence, natural landscaping, privacy and informality were elements of the modern suburban dream. Modernism played out differently in Europe where the architecture of this era was expressed by urban and high-density apartment living. In America, the fusion of the western ideal of the ranch home and the concept of leisure inspired the form of the mid-century neighborhood. Fully 67 of the homes in Matlock Heights are ranch style. It is the consistency of age, form and materials that make Matlock Heights an outstanding and eminently preserve-able example of its era.
Construction of Matlock Heights took place between 1952 and 1961. Early photographs during its development show typical speculative construction on cleared tracts that were once part of a large farmstead. The Greek Revival I-house, that was a part of that farm, still stands on Fritz Drive.
Today Matlock Heights streetscape features mature trees on its rolling topography. The neighborhood was built without sidewalks, and still has no sidewalks, but most would characterize it as a walking community in a park-like setting. Traffic within the district is light though Matlock Heights was one of Bloomington's early communities designed for automobile traffic and the new commuter culture.
DESIGN GUIDELINES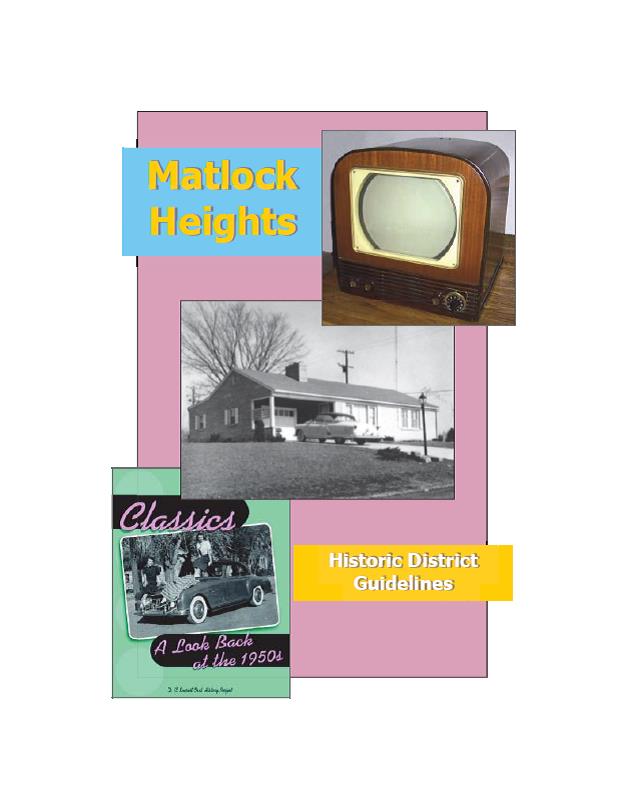 Matlock Heights Historic District Design Guidelines
The guidelines were written by a group of neighborhood volunteers with the assistance of city staff and members of the Historic Preservation Commission. "The purpose of these design guidelines is to present flexible approaches to appropriate design in the Matlock Heights Conservation District (MHCD). The goal is to harmonize new buildings with the historic fabric that remains. The guidelines are not meant to restrict creativity, but to set up a framework within which sympathetic design will occur. Within such a framework, there can be many different design solutions which may be appropriate. The intent of these design guidelines is to maintain the integrity of our mid-century modern neighborhood, as originally constructed; to protect property values for homeowners, and to keep single family homes where they have been built traditionally; to regulate the building of new homes and moving of existing homes. The following guidelines regulate new construction, should such a circumstance arise. They do not regulate modifications or additions to existing home structures, although we do suggest voluntary use of them as guiding principles."
The Matlock Heights Neighborhood Association has been active for many years, seeking to promote a safe and harmonious living environment for its residents, to protect this special place from incompatible development, and to preserve our valuable mid-century modern homes from destruction. The MHCD was implemented to help preserve our unique residential housing and to provide stability in a neighborhood where student housing development pressure is present. The distinctive makeup of our neighborhood should ensure that people are likely to purchase homes here and to work together for the enhancement of the neighborhood over time. With support from the Bloomington Historic Preservation Commission (BHPC), we have established these design guidelines for any future changes in our MHCD, to preserve the historic character of this place. In Matlock Heights, we value our history and the diverse families who live here and have pride in our neighborhood, all of which encourage us in this endeavor.