Unlike many of the concerns associated with deer in urban and suburban areas, the increasing prevalence of white tailed deer at the Griffy Lake Nature Preserve calls for a different analysis altogether.
Griffy Lake Nature Preserve is one the community's most beautiful and ecologically-diverse areas. Located on the north side of Bloomington, the 1,180-acre preserve includes a 109-acre lake and provides valuable space for hiking, fishing, teaching and research and is home to a rich variety of plants and animals. In interest of protecting the preserve, the City and its partners commissioned the Griffy Lake Nature Preserve Master Plan in 2008. The Plan pointed out that an ever-increasing deer population was stripping the forest understory of native plants and providing the opportunity for invasive species to become established. The Plan calls for further study "to determine whether there is an overabundance of deer and how plant communities respond when the pressure of presumed overabundance of deer is removed."*

For the past five years, researchers at the IU Research and Teaching Preserve have been using deer exclosures to track the effect of deer on plant communities. These exclosures are fencing units that keep deer out, but allow other plant eaters in. The result of these studies have shown that the vegetative diversity at Griffy is declining as a consequence of deer overbrowsing, resulting in an unnaturally open understory.
Presentation by IU Biologists Clay & Shelton -- 07 December 2010 (PDF 2.49 MB)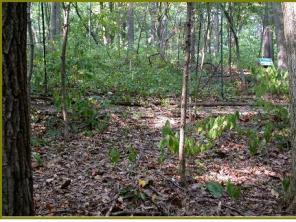 Some of the most notable effects found by these researchers and scientists at Purdue studying the effect of deer browsing on regional forest ecosystems include:
Reduced presence of native flora such as hemlock, yellow birch, pines, lilies, orchids, spring ephemerals and smaller plants
Reduced ground cover of herbaceous species
Reduced regeneration of wood species in the understory
Reduced species richness
Increased presence of non-native exotics and invasive species
Reduced species evenness and diversity
Reduced seedlings and saplings
Indeed, Griffy Nature Preserve is now dominated by plants deer don't eat: pawpaw, spicebush, white snakeroot, mayapple, jack-in-the-pulpit, many invasives, such as Japanese siltgrass and garlic mustard
Overbrowsing does not just affect plants; overbrowsing:
Significantly reduces ground and shrub-nesting songbird habitat and decreases the survival rates of birds such as the woodthrush and Acadian flycatcher, both species that appear to be declining in the Midwest**
Reduces habitat for other mammals, reptiles and amphibians
Reduces food sources for other herbivores
Increases soil compaction
Contributes to soil erosion
Reduces leaf litter depth
Researchers point out that browsing poses the possibility of producing an "alternate stable state" - a condition in which a forest would never return to its natural state, even if browsing pressure were diminished by a permanent reduction of deer densities.
*Griffy Lake Nature Preserve Master Plan, Monroe County Indiana, Summer 2008. http://bloomington.in.gov/media/media/application/pdf/3566.pdf , p.58
** This has been demonstrated by Purdue scientists studying the effect of deer browsing on avian communities in Brown County. Griffy is part of the Brown County Hills Sections of the Highland Rim Natural Region. Scientists at the IU Research and Teaching Preserve advise that the studies examining the effect of deer overbrowsing on migratory songbirds can be applied to Griffy. See, Parker, et al., The Influence of White-Tailed Deer on the Biodiversity of Indiana State Parks.