The E. Allen Street project was a pilot neighborhood greenway installation from S. Walnut Street to S. Henderson Street. Neighborhood Greenways are residential streets with low volumes of auto traffic and low speeds where people walking and people bicycling are given priority. Neighborhood Greenways allow access to motor vehicles, but priority is placed on walking and bicycling.
Due to the success of the 2018 pilot project, the four temporary bump outs will be replaced with more permanent bump outs that will include rain garden installations in three of them.
Project Location: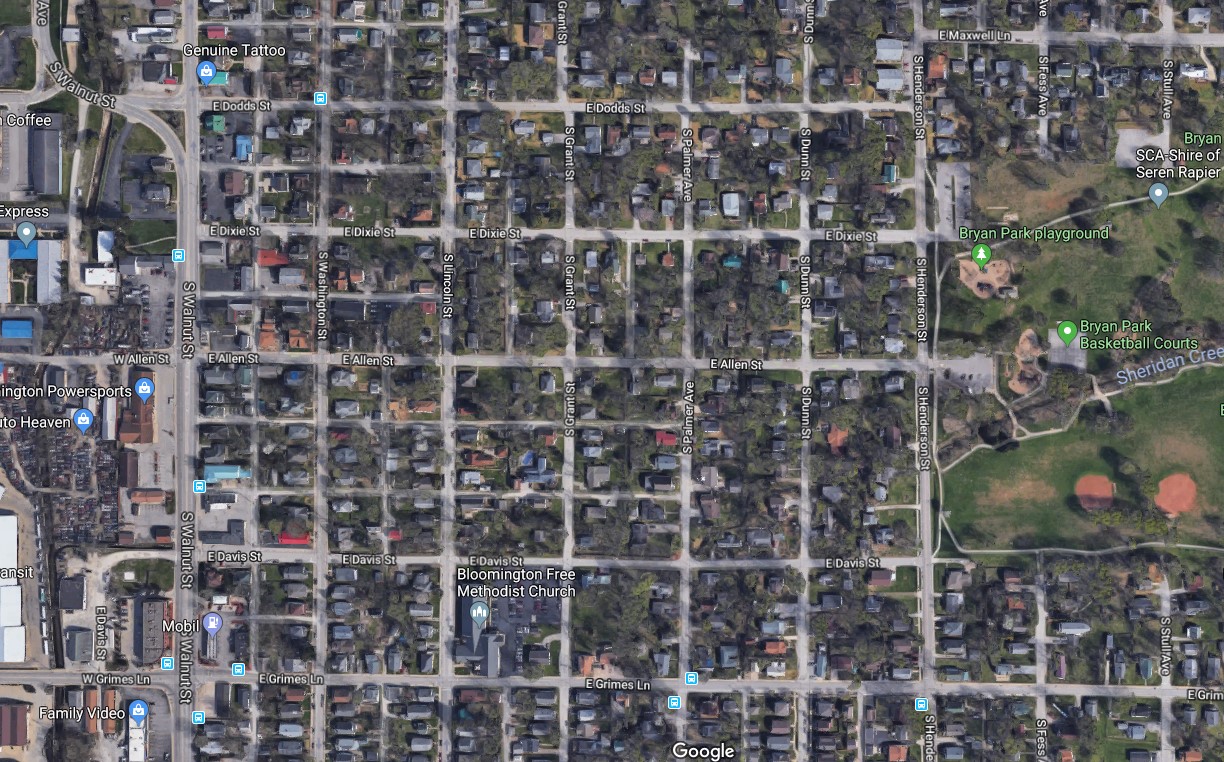 Project Description: 
This project uses speed cushions and bump-outs in order to reduce motor vehicle speeds and increase comfort and safety for pedestrians and bicyclists on E. Allen Street. This street was identified as a Neighborhood Greenway in the Bicycle and Pedestrian Transportation and Greenways System Plan. The temporary materials installed as part of a pilot installation allow for residents and greenway users to provide feedback before committing to a permanent design for the Neighborhood Greenway. 
This project will also incorporate the use of three rain gardens, or biofiltration areas, in order to improve storm sewer functionality in that area.
Project Timeline
The pilot project was installed the week of April 23, 2018.
Design of rain gardens and concrete structures were completed in the Fall of 2020.
Construction is anticipated to occur in early Spring of 2021.
Maintenance of Traffic (Construction phase)
Traffic may be reduced to a single lane of traffic during construction.  It is anticipated that some short term full closures will be required, these will be limited to individual blocks and access to residents will be provided for at all times.
Construction Progress
Currently out for quotes.
Quoting Documents
Letting Date: November 6th, 2020 at 11:30 AM
Quotes are due in the City Hall Atrium by 11:30 AM on Friday November 6th, 2020.  Quotes will be opened during a special virtual meeting at 12:00 PM (Noon) on Friday November 6th, 2020.  For those interested in joining the opening meeting please email atenro@bloomington.in.gov, or follow this link at the time of the meeting.
Quote amounts:
E & B Paving, LLC    $62,262.00
Milestone                   $67,000.00
Project Contact:
Beth Rosenbarger (for Greenways and traffic calming)

(812) 349-3423 or rosenbab@bloomington.in.gov

Roy Aten (for construction and bidding)

(812) 349-3591 or atenro@bloomington.in.gov