This project will install pedestrian signal heads with countdown timers and accessible pedestrian push buttons at City-maintained traffic signals and pedestrian hybrid beacons. 
Project Map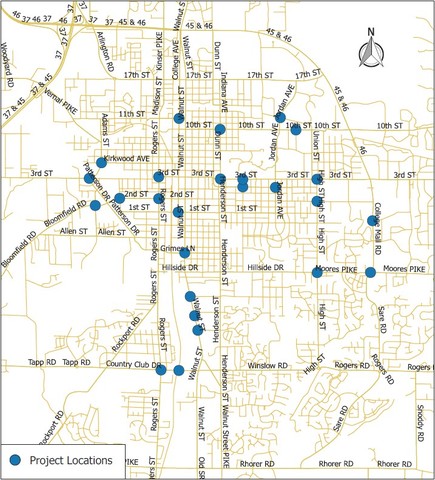 Project Description
The project will also install or improve curb ramps and install or refresh crosswalks at these locations as needed.
The project is included in the Bloomington/Monroe County Metropolitan Planning Organization (BMCMPO) Transportation Improvement Plan (TIP) and is eligible for federal funding through the Highway Safety Improvement Program (HSIP).
AECOM Technical Services, Inc. has been selected as the design consultant for this project.
Hannum Wagle & Cline has been selected as the construction engineering consultant for this project.
Project Location
This project will take place at numerous signalized intersections throughout Bloomington. The map at the top of this page shows the full list of intersections initially evaluated. The final list of locations to be constructed was reduced based on feasibility and financial constrains. The final list of intersections includes:
11th-College
10th-Indiana
3rd-Woodlawn
10th-Sunrise
Buick Cadillac-College Mall
High-Hillside-Moores Pike
B-Line-Country Club
Country Club-Rogers
North-Walnut
Miller-Walnut
Grimes-Walnut
1st-College
2nd-Rogers
2nd-Walker
Atwater-Woodlawn
Project Timeline
Design: 2016-2017 (complete)
Right of Way Acquisition: N/A
Construction: 2018 (estimated start in Spring)
Project Contact
Neil Kopper, PE
(812) 349-3593 or koppern@bloomington.in.gov