Page last updated on July 25, 2022 at 9:10 am
This project will construct a multiuse path along the west side of Sare Road between Buttonwood Lane and Moores Pike. It will also improve the signalized intersection of Sare Road and Moores Pike to include updated pedestrian signal indications and buttons, improved crosswalks and accessible curb ramps, at least one signal head per travel lane, signal head backplates, and other geometric modifications to reduce crash risk. The project is programmed to receive federal funding assistance for preliminary engineering, construction, and construction engineering.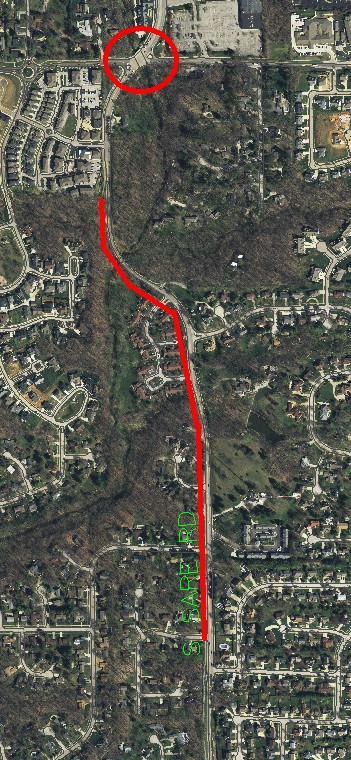 To view plans for the project, click on the link below:
WSP has been selected to perform the preliminary engineering for this project
Public Input:
A public meeting for this project took place Thursday March 28th, 2019 at Childs Elementary School, and the following materials were presented. 
Send comments or questions to project contact below. 
2019-06-11 update:
See the attachments below for an updated draft plan set for the project and a copy of the project's environmental document.
Project Timeline:
Design: 2018-2019
ROW Acquisition: 2019
Construction: 2020/2021
Right-of-Way Clearing Quote Documents:
Sealed quotes shall be received by the Planning and Transportation Department, at City Hall, 401 North Morton Street, Suite #130, Bloomington, Indiana, at or before 12:00 PM local time on March 2nd, 2020. Quotes will be publicly opened and read aloud by the Board of Public Works at 12:00 PM local time on March 2nd, 2020, at its meeting in the City McCloskey Conference Room, Showers Building, 401 North Morton Street, Suite #135, Bloomington, Indiana.  Any Quotes received after the designated time will be returned unopened.  Quotes will be reviewed and the award may be made at the March 3rd, 2020 meeting or a subsequent meeting of the Board of Public Works, in the City Council Chambers, Showers Building, 401 North Morton Street, Suite #115 Bloomington, Indiana.
Right-of-Way Clearing Quote Results:
Conexco, Inc.    $99,500.00
Monroe LLC.     $31,900.00 (Awarded)
Project Contact:
Matt Smethurst
(812) 349-3514 or smethurm@bloomington.in.gov