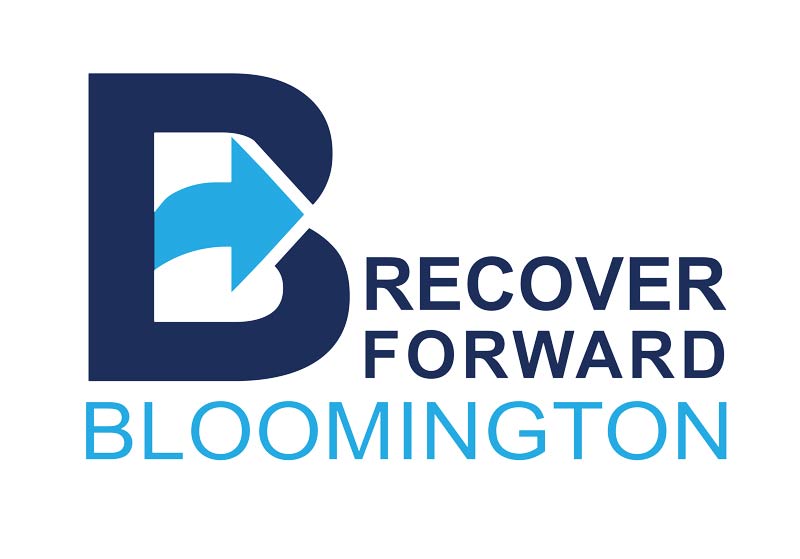 Recover Forward Bloomington is a multi-year initiative to help our community rebound and thrive, moving toward more racial, economic, and climate justice as we do.
Page last updated on August 6, 2020, at 12:20 p.m.
What is Recover Forward?
Recover Forward is Mayor John Hamilton's plan for Bloomington's recovery from the COVID-19 pandemic and subsequent economic collapse. Launched in July 2020, Recover Forward seeks not only to repair Bloomington but to renew it. Rather than restoring a pre-pandemic normal, Recover Forward seeks to lean into a future that is more consistent with our values. Recover Forward will rebuild Bloomington in a way that more thoroughly embodies our community's goals for racial equity, a sustainable and resilient economy, and climate action.  
Racial Justice
Bloomington's recovery into the community we envision requires that we confront racism, discrimination, and intolerance and invest in ways to cultivate equity and inclusion. Recovering Forward toward racial equity will involve reviewing, reconsidering, and refreshing processes, programs, plans, and purchases across City government. 
Economic Justice
To Recover Forward, Bloomington must foster a sustainable, resilient, and equitable economy. The plan seeks to stimulate, strengthen, and diversify the local economy, attract employers, grow jobs and wages for those of different qualifications, and build resiliency and equity. Bloomington's bright future is a place where all residents thrive, with meaningful work, competitive wages, adequate housing, and a high quality of life.
Climate Justice
As the community rebuilds from the public health and economic crises, the recovery model must foreground environmental sustainability and climate justice. While human health and finances have taken center stage during the COVID-19 crisis, the climate emergency has not retreated. Recover Forward integrates Bloomington's actions to prepare for and mitigate the effects of global climate change into a comprehensive plan for heightened resilience.
Speeches & Remarks
July 27: Mayor Hamilton Speaks to Press Club about Recover Forward–Click here.
July 16: Mayor Hamilton Recover Forward Public Address–Click here.
Panel Discussions
August 12: Toward Sustainable Quality of Life Panel Discussion on Facebook Live–Click here.
August 5: Economic Justice Panel Discussion on Facebook Live–Click here.
July 30: Racial Justice Panel Discussion on Facebook Live–Click here.
Documents & Presentations
August 5: Proposed Recover Forward Stimulus Plan–Click here.
August 5: Digital Equity Study–Click here.
August 4: Housing Study–Click here.