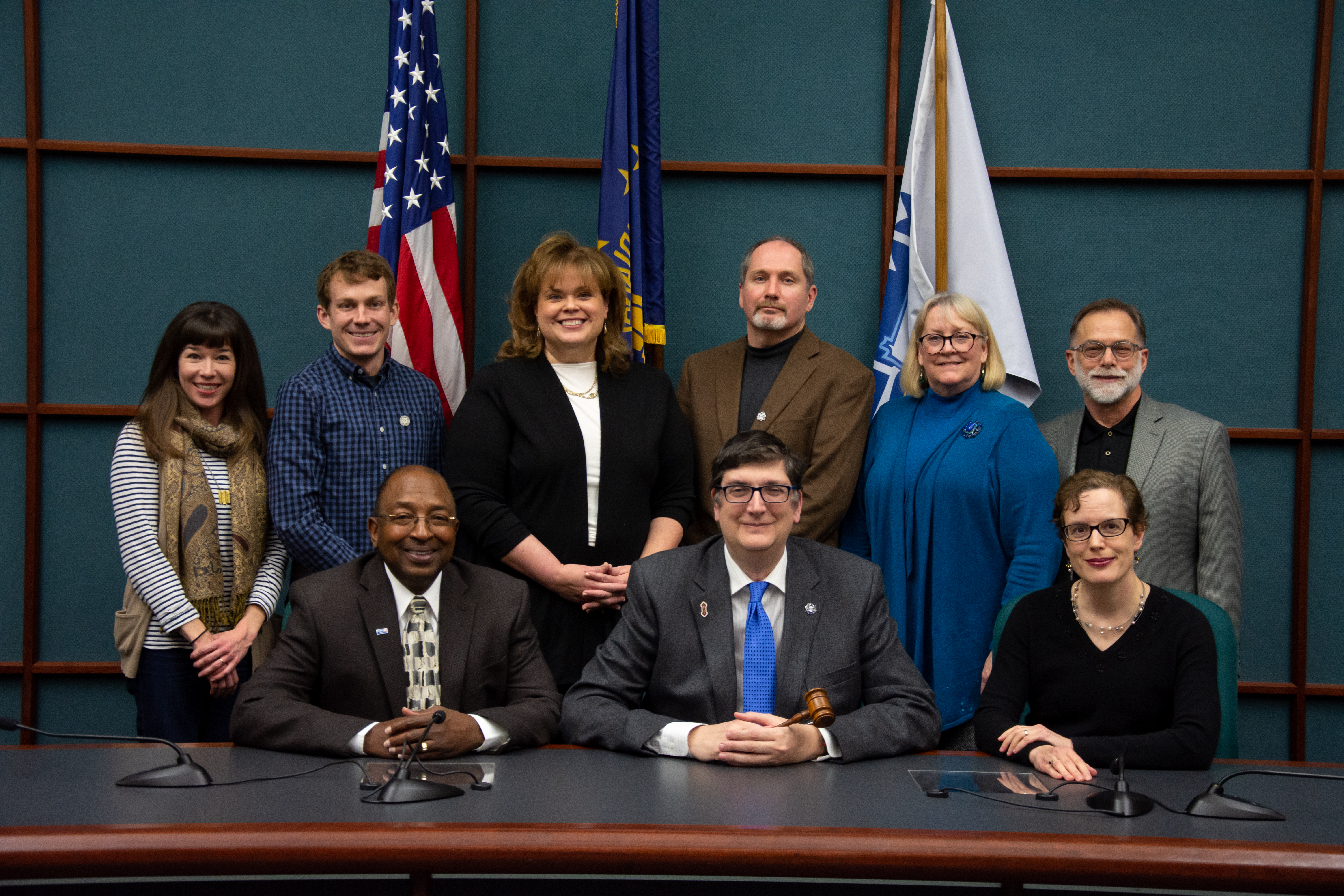 Front row, Left-Right :

Jim Sims (Council Vice President and At-Large Representative)

Stephen Volan (Council President & District VI Representative)

Isabel Piedmont-Smith (Parliamentarian and District V Representative)

 

Back row, Left-Right :

Kate Rosenbarger (District I Representative)

Matt Flaherty (At-Large Representative)

Sue Sgambelluri (District II Representative)

Dave Rollo (District IV Representative)

Susan Sandberg (At-Large Representative)

Ron Smith (District III Representative)
City Council
As the legislative body of the City, the City Council is a link between the citizens of Bloomington and their government. By enacting legislation that fosters the health, safety, and welfare of the City, the Council works to represent the interests of residents while ensuring the delivery of municipal services. By statute, the Council is responsible for the control of the City's property and finances, and the appropriation of money (Indiana Code § 36‐4‐6‐18).
Councilmembers
Learn more about Councilmembers, including biographies and contact information (click on the name).
Find your Council Representative
Six Councilmembers represent individual City districts and three represent the City At-Large. To find out which Council district you are in, consult the City Council District Interactive Map or use the myBloomington address search to find all sorts of information about the area in which you live. Downloadable maps are available in the Council District Map Gallery.
Council Meetings
Meetings are generally held the first, four Wednesdays of the month at 6:30 p.m. in Council Chambers, City Hall, 401 N. Morton. Council Meetings (Regular Sessions and Special Sessions) are meetings where official actions are taken (e.g. legislation is passed, legislation is amended, etc.). Council Committee Meetings (see below) are where legislation is discussed.
All meetings of the Council and its committees are open to the public. Auxiliary aids (including assisted listening devices) for people with disabilities are available upon request with adequate notice. Please call (812) 349-3409 or e-mail council@bloomington.in.gov. The Agenda and background material for these meetings will be linked at the Council's "Meetings & Documents" Page.
NEXT COUNCIL MEETING:
WEDNESDAY, 04 March 2020 at 6:30pm in the Council Chambers
NEXT COUNCIL COMMITTEE MEETING(S): 
WEDNESDAY, 26 February 2020

Land Use Committee -- 5:45pm in the Council Chambers