Page last updated on December 7, 2020 at 3:48 pm
This project will construct a sidewalk along the east side of Adams Street from Patterson Drive to Kirkwood Avenue. It will also replace the traffic signal equipment at the intersection of Adams Street and Kirkwood Avenue and make other geometric modifications along Adams Street including installation of physically protected bicycle lanes.
American Structurepoint Inc. has been selected to complete the design for this project.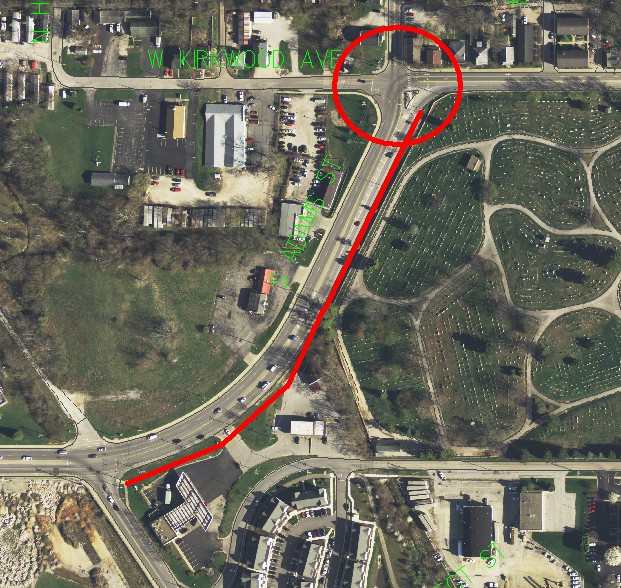 Public Meeting Details:

The public meeting for this project was held on:
Tuesday, September 24th, 2019
6:00pm - 7:30pm
City Hall Council Chambers, 401 N Morton St

The purpose of this public meeting was to provide information about the project and gather input from nearby residents and other stakeholders. If you could not attend this meeting and have questions or comments, please feel free to contact Neil Kopper at koppern@bloomington.in.gov or 812-349-3423. The meeting's presentation and display materials are attached at the bottom of this page. 
 
Project Timeline:
Design: 2018
Public Input Meeting: September 24, 2019
Construction: 2020
Project Bid Documents:
    Bids Due December 2nd, 2019 by 10:30 AM
Project Bid Results:
Ragle, Inc.                             $1,551,806.40
Crider & Crider                      $1,504,773.48
Milestone  Contractors, LP  $1,259,943.00 (Awarded)
E & B Paving, Inc.                 $1,263,000.00
Project Contact:
Russell White
(812) 349-3423 or whiter@bloomington.in.gov