Page last updated on January 23, 2023 at 8:59 am
Neighborhood Greenways are low-speed, low-volume, shared-space streets that create high-comfort walking and bicycling connections. To see which streets are designated as Neighborhood Greenways, check out the Transportation Plan. In order to create a connected network, the City is prioritizing the design and installation of Neighborhood Greenways recommended in the Priority Bicycle Facilities Network. For 2021, several Neighborhood Greenways are in the works. To design and install Neighborhood Greenways, the City follows the Staff-Led Traffic Calming/Neighborhood Greenways Process. 
Project Map: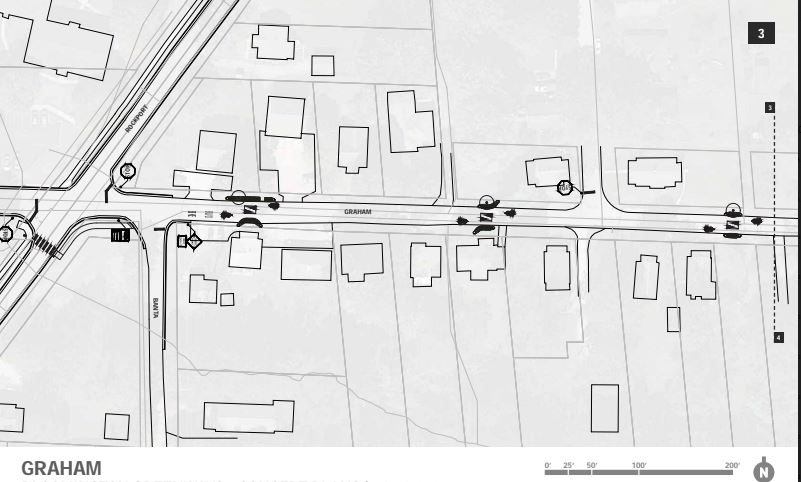 Next Public Input and Meeting:
There are no future public input meetings scheduled for this project. To provide comments on the project please reach out to the Project Contact (listed below) or use this form. A supplemental map (with labels) has been provided below. 
For Public Input Information about this Project please visit this website: E 7th Neighborhood Greenway | City of Bloomington, Indiana
Project Description:
Neighborhood Greenways generally involve using traffic calming to create a comfortable shared space street. The design of the street will be based on feedback from the public meetings, best practices, and project goals. 
Eagle Ridge Civil Engineering is the engineering consultant for this project.
Project Timeline:
Public Input: Spring/Summer 2021
Design: Summer/Fall 2021
Construction: IN PROGRESS
Construction Progress:
Bid Documents:
Letting Date: December 20th, 2021 
Award Date: December 21st 2021, or later Meeting
Zoom meeting link for Bid Opening-  Link
Quotes are due in the City Hall Atrium by 11:30 AM on Monday, December 20th, 2021.  Bids will be opened and read aloud at a virtual meeting, City Hall, 401 North Morton Street at 12:00 PM (Noon) on Monday, December 20th, 2021 
Bid (Open):
No pre-Bid meeting is scheduled for this project.
Results:
E & B Paving LLC                      $664,400.00
Milestone Contactors LP            $545,545.00
Rivertown Construction LLC      $439,876.10  (Awarded)
Neighborhood Greenways follow the Staff-Led Traffic Calming/Neighborhood Greenways Process. Here are the steps in the process, and where we are currently. 
Notice Mailing-- sent April 21, 2021. Link for a recording of the meeting
First Meeting: Project Scope and Objectives Meeting-- this meeting was held on May 6, 2021. Please see the link posted above for a recording of the meeting.  
Second Meeting: this meeting was held on October 5, 2021 at the Broadview Park Shelter.
Optional other meetings - None scheduled at this time
Open Comment Period - Please see the descriptive map below and provide feedback using this form
Bicycle and Pedestrian Safety Commission Review- Monday, November 8, 2021 @ 5:30pm. For more information or meeting details please see the BPSC website. 
Installation
Project Contact:
Sara Gomez (for questions related to bidding or construction)
(812) 349-3525 or gomezs@bloomington.in.gov