Page last updated on June 1, 2022 at 3:33 pm
Project Background:
In May 2018, the City of Bloomington entered into a purchase agreement with IU Health for the 24-acre hospital site.  IU Health is expecting to relocate to a new hospital facility in late 2021 and will transfer the existing hospital property to the City.
The agreement states the City will receive a portion of the site cleared and remediated.  This area includes the main hospital building and the area bound by 2nd, Rogers, 1st and Fairview Streets.  The existing parking garage and the Kohr Administration Building will remain.  The site will offer the unique opportunity to construct a community hub from the ground up.
Project Details:
The Phase 1 East project is the first step for the City of Bloomington towards the redevelopment of the IU Health Bloomington Hospital site.  Details of the BHRU project in its entirety may be found at https://bloomingtonhospitalsite.com/.
The project limits of the BHRU Phase 1 East project are bounded by 2nd Street to the north, 1st Street to the south, B-Line to the east, and Rogers Street to the west.  The project will create development ready lots by demolishing existing structures, re-platting the property, installing utilities, constructing streets, landscaping and bicycle/pedestrian facilities.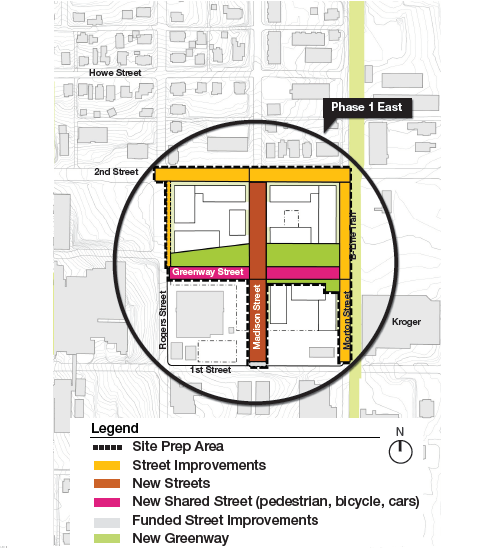 Project Timeline:
Design: 2021
Construction: 2022
Related Projects:
Project Contact:
Patrick Dierkes
patrick.dierkes@bloomington.in.gov
Hopewell Phase I East Demolition Project Bidding Documents:
Letting Date: June 6th, 2022 at 11:45 AM
Zoom meeting link for Bid Opening-  
Bids are due in the City Hall Atrium by 11:45 AM on Monday, June 6th, 2022.  Bids will be opened and read aloud at a work session of the Board of Public Works in the Council Chambers, City Hall, 401 North Morton Street at 12:00 PM (Noon) on Monday, June 6th, 2022.  
Project Contact:
Matt Smethurst
(812) 349-3514 or smethurm@bloomington.in.gov