Page last updated on May 17, 2022 at 3:37 pm
SAVE the DATE!
Blooming Neighborhoods 2022 - Saturday, September 24th
Blooming Neighborhoods 2021: Harvesting Neighborhood Potential
Saturday, September 25, 10:00 a.m. to noon
Bloomington Community Farmers Market
City Hall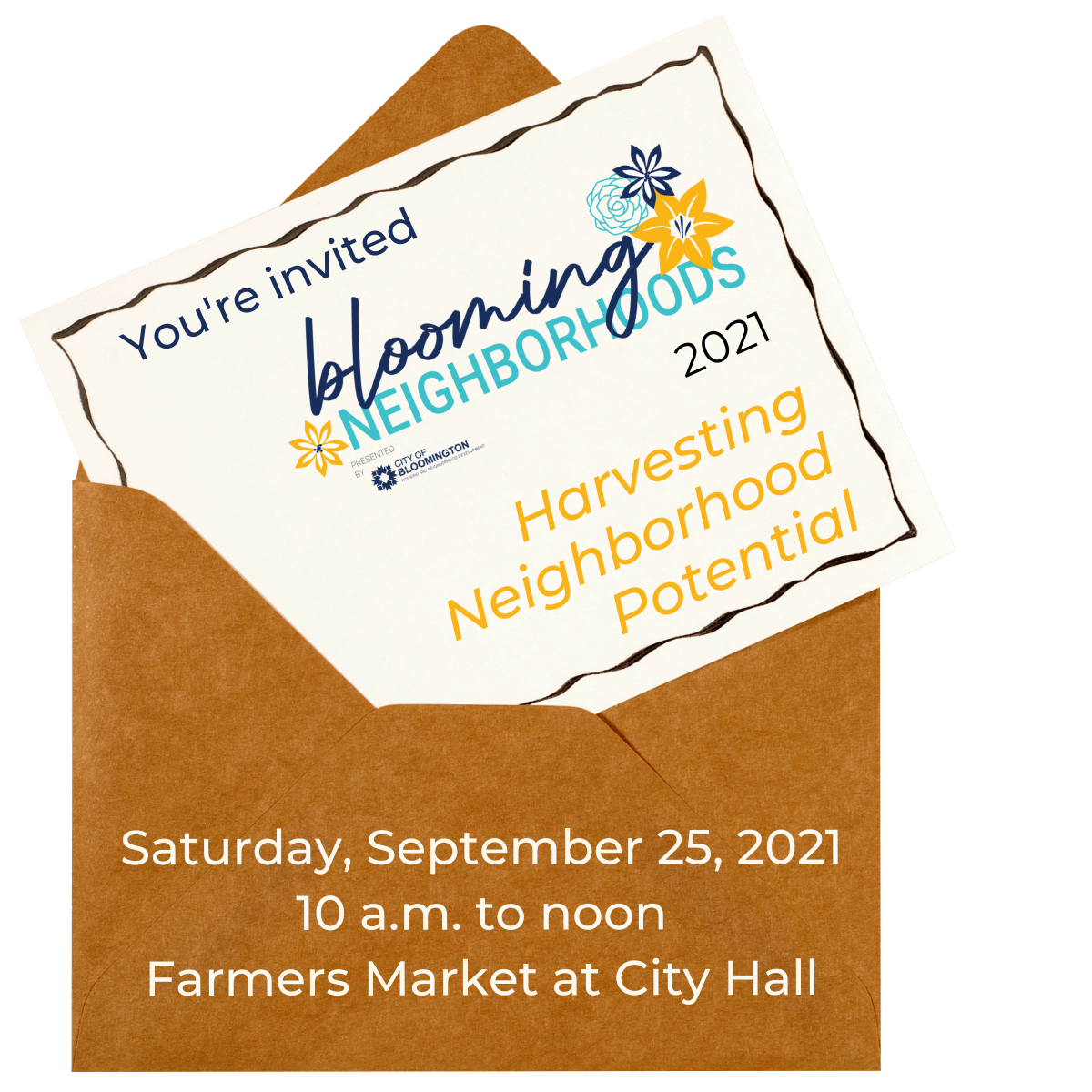 ATTENTION NEIGHBORHOODS: You're invited to a celebration and resource fair! The HAND department will host this opportunity to network, share, and celebrate neighborhood accomplishments. Neighborhood representatives and members of community organizations will assemble on the terraces under the trees in front of City Hall for fellowship and fun. This year's theme is Harvesting Neighborhood Potential.
Learn what other groups have done to improve their neighborhoods, using funding from HAND grants.
Learn about resources, programs, and services available to neighborhoods through our community partners.
Each participating group will be furnished with a table and chairs, a neighborhood map, and a list of HAND grants received over the years. There will be giveaways and prizes too.
Please RSVP by September 20th to angela.vanrooy@bloomington.in.gov with your neighborhood name and the number of people attending, so that we have enough chairs for everyone.
Confirmed Attendees (updated 9/23/21):
NEIGHBORHOOD GROUPS
Arden Place Neighborhood Association
Covenanter Neighborhood Association
Crescent Bend Neighborhood Association
Crestmont Community, BHA Residents Council
Eastern Heights Neighborhood Association
Elm Heights Neighborhood Association
Fritz Terrace Neighborhood Association
Matlock Heights Neighborhood Association & Historic District
McDoel Gardens Neighborhood Association
Near West Side Neighborhood Association
Old Northeast Downtown Neighborhood Association
Park Ridge Neighborhood Association
Spicewood Neighborhood Association
Village of Ridgefield Homeowners Association
COMMUNITY PARTNERS & CITY DEPARTMENTS
Council of Neighborhood Associations (CONA)
IU Dean of Students, Division of Student Affairs
Monroe County Identify and Reduce Invasive Species (MC-IRIS)
Monroe County Solid Waste Management District
City of Bloomington Community and Family Resources
City of Bloomington Economic and Sustainable Development Department
City of Bloomington Housing and Neighborhood Development Department (HAND)
City of Bloomington Utilities (CBU) Stormwater Education
Bloomington Police Department Community Service Specialists
----------------------
Celebrating Bloomington's Neighborhoods in 2020
Happy National Good Neighbor Day!
September 28, 2020
Blooming Neighborhoods Video
The Blooming Neighborhoods celebration has been an annual Bloomington tradition for over 20 years. This year we are unable to celebrate in person, so HAND has produced a video to commemorate Bloomington's neighborhood associations. Check it out!
Bloomington Neighborhood Association Logo Contest Winners
CONGRATULATIONS TO COVENANTER AND FRITZ TERRACE NEIGHBORHOOD ASSOCIATIONS!!
Covenanter and Fritz Terrace neighborhood associations each submitted a logo for the HAND Logo Contest. Since these were the only entries, it was decided that HAND would declare them co-winners. Their logos were beautiful, thoughtful, and dynamic, and each evokes the vibe of their respective neighborhoods. Below are their logos, along with their descriptions of how the logos represents them.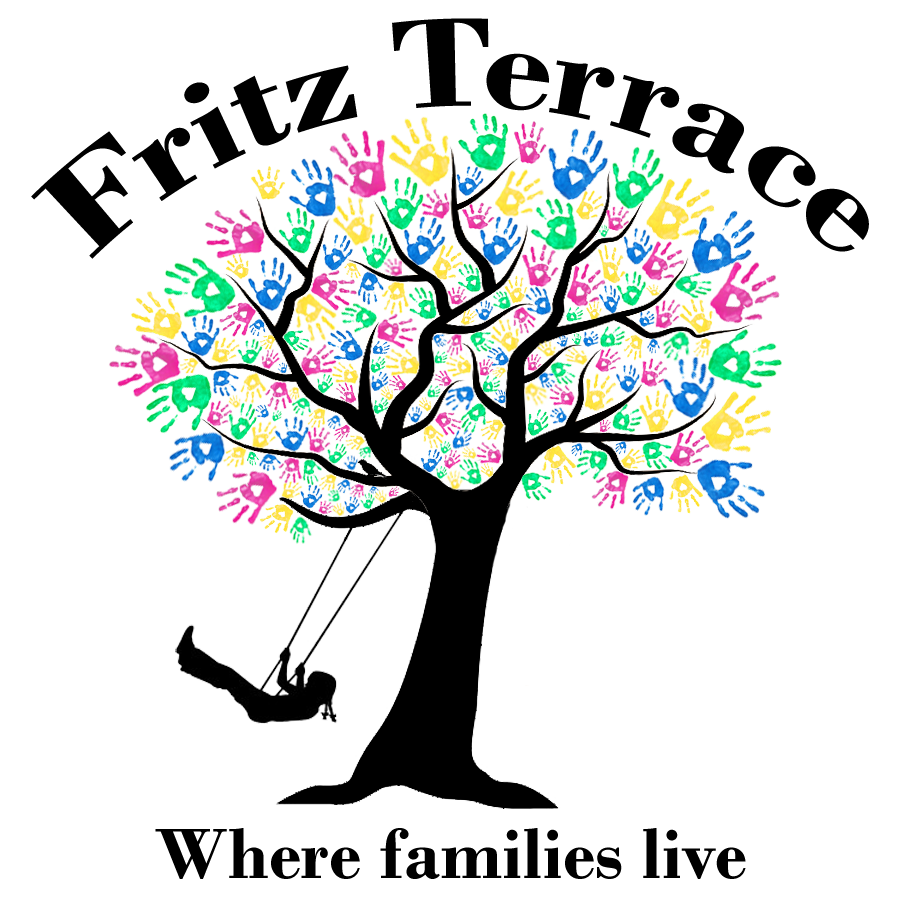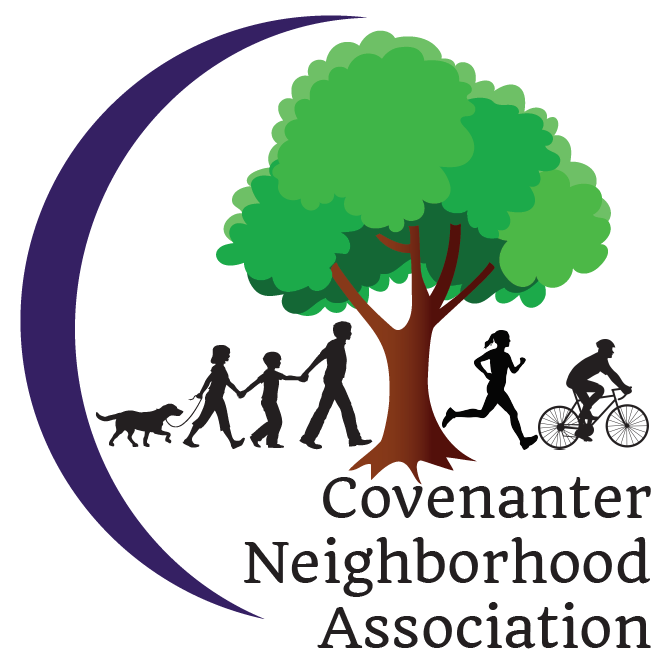 Blue Ridge Neighborhood Association contributes to Blooming Neighborhoods
Linda and Paul Kern of Blue Ridge neighborhood have taken a deep dive into the history of their neighborhood, once known as Blue Ridge Estates. They kindly shared with HAND the first book in the mini-series they've compiled. You can read all about it here.