Dear Neighbor,
Welcome to Bloomington! Your town has a lot to tell you. Bloomington's residential areas are colorful, vibrant neighborhoods, and if you live in one, there's a good chance it's got an organization behind it: There are more than 60 active neighborhood associations in the city, working to improve the quality of life for the residents within them.
The information here is provided to help you understand the programs, services, codes and ordinances for Bloomington residents. They are guidelines for living together: They reflect the spirit of the neighborhoods, and the desire for all residents to live happily in their homes.
Information Magnets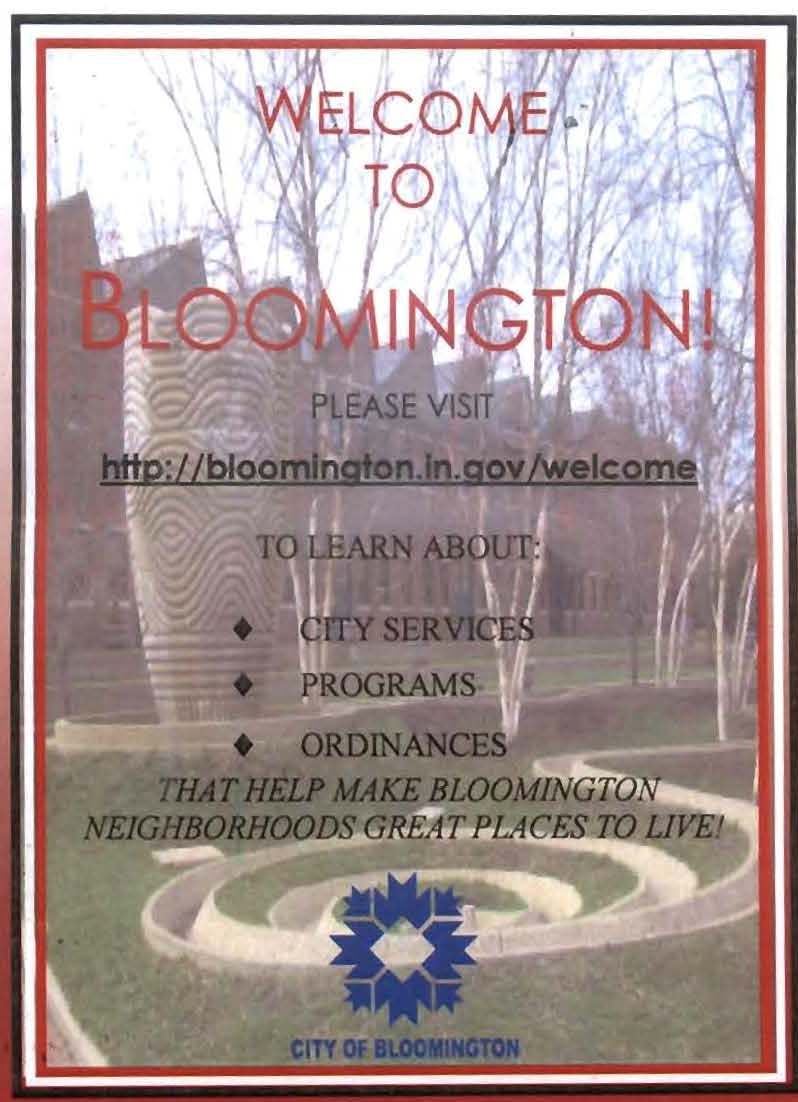 HAND will furnish 3 1/2" by 4 1/2" "Welcome to Bloomington" magnets (pictured to the right) that can be adapted to hang on the door handle. The "Welcome to Bloomington" magnet features a link to this website. These are available to neighborhood groups or landlords, for distribution to new neighbors and tenants.
An accompanying "Welcome to Bloomington" brochure can be downloaded or ordered through the HAND Department.
To order magnets or brochures for your neighborhood, contact Angela Van Rooy in the HAND Department at 812-349-3505, or email angela.vanrooy@bloomington.in.gov
Residential Services - Important Links
Information from the Sanitation Department
Trash and recycling collection and violations
Information for home owners/buyers, landlords or renters
Water and Sewage Utilities Customer Information
Rental Housing and Occupancy
All rental properties in the city are subject to the Rental Occupancy Program, which requires a rental property to be to be registered with the City of Bloomington, and to be inspected every 3-5 years. Each rental property must have a current occupancy permit, issued by the City's Housing & Neighborhood Development Department (HAND). Every rental property has a file in the HAND department. We invite you to come in and look at the file BEFORE you sign a lease!
These are some of the things that an inspector looks at during a rental inspection.
Rental properties are limited in the number of unrelated adults who may occupy them. In most residential areas, the occupancy limit is three.
If you have a problem with your rental property, notify the property owner. If it is not resolved, call the HAND department at (812) 349-3420. The Community and Justice Mediation offers free dispute resolution to neighbors, neighborhoods, or organizations experiencing miscommunication or conflict of most any kind. Contact CJAM at 812-336-8677 or cjam@cjam.org.
City Contacts
Visit the "Contact Us" section of the website for main City phone numbers, a list of City departments, and to find City Hall.
Reporting an Issue
Use Bloomington's uReport to notify the City of community issues, such as potholes, graffiti, malfunctioning street lights, and more.
Download our iPhone app or Android app to report on the go!
Crime Reporting
Residents can report incidents online within Bloomington city limits when there are no known suspects, witnesses, suspect's vehicles, or evidence that could lead to identification of a suspect and the incident is non-violent.
Noise Complaints
Quiet Nights is a program that provides funding to the Police Department to enforce the City of Bloomington noise ordinance. The ordinance sets specific standards for daytime and nighttime noise. To file a complaint, call 812-339-4477.
More information about noise ordinance violations, penalties and appeals, can be found here.
Road & Sidewalk Closings/Construction
The City offers residents the ability to see current and future road closings, lane reductions, and sidewalk repairs around the City through a web application called inRoads. inRoads provides several types of views for users to see road closings on a map, a list, or a calendar. In addition to viewing road information through the inRoads web application, the public may download inRoads system data in iCal, XML or JSON formats through the application or receive e-mail alerts about upcoming or current roadwork.
To access the application or for more information about inRoads, visit inRoads.
Transportation
Visit Bloomington Transit for a list of bus routes, the bus route map, to plan a bus trip, and to track a bus arrival.