ATTENTION - Effective Thursday, August 5, 2021 at 8:00am, by order of the Monroe County government:
Individuals over the age of two years must wear a face covering over their nose, mouth, and lower face when in an indoor public space. Please refer to the official Public Health Regulation and Order for further details.
Dear Neighbor,
Thanks for visiting the City of Bloomington website! We're glad to have you here, and we've got a lot to share!
Bloomington's residential areas are colorful, vibrant neighborhoods, and if you live in one, there's a good chance it's got an organization behind it. There are more than 60 active neighborhood associations in the city, working to improve the quality of life for the residents within them.
The information here is provided to help you understand the programs, services, codes, and ordinances for Bloomington residents. They are guidelines for living together: They reflect the spirit of the neighborhoods, and the desire for all residents to live happily in their homes. 
Whether you've just arrived in town or have lived here for years, the information on this page will be of use to you. Hopefully, you'll find just what you're looking for. If you still have questions, we're here to help. Please call Housing and Neighborhood Development (HAND) at 812-349-3420 or email HAND@bloomington.in.gov.
Kind Regards,
The HAND Staff
New to your neighborhood? Follow these steps:
myBloomington provides a treasure trove of information specific to your address! Simply enter your street address, and you'll be provided with information such as:
a map of your immediate area showing local parks, schools, and road work;
your City Council district number and map;
names of your local elected officials, and how to contact them;
the name of your neighborhood association, if you have one;
your trash & recycling collection day;
and much more.
Step Two: Subscribe to The HAND Update newsletter
Stay up to date on what happening in the Bloomington community. The HAND Update includes information about City programs, services, and events, as well as community news and events. It is published twice per month by the Department of Housing and Neighborhood Development.
Step Three: Be a Good Neighbor
Introduce yourself to your neighbors. Greet them when you see them. Be considerate and polite.
Exchange contact information: many problems can be avoided or solved with a phone call.
Keep your yard and porch clean.
If you are a renter, check your lease to determine who is responsible for trash disposal, lawn maintenance, and snow removal. If these are your responsibility, make sure they get done.
Drive carefully.
Park legally, and be sure that your guests do the same. You may not park on an "unimproved surface", such as grass, or dirt.
Let your neighbors know ahead of time if you are planning a party.
Play music at a reasonable volume, and avoiding late-night noise.
Be a considerate pet owner: keep your dog on a leash and always pick up and properly dispose of pet waste.
Ask your neighbors or call HAND (812-349-3420) to find out If your neighborhood has a neighborhood association and get involved.
Use the Nextdoor app to communicate with your neighbors and keep up on issues affecting your area.
Be considerate of diversity.
Lend a hand: offer to help rake leaves or shovel snow. Be kind and helpful.
STUDENTS--Check out this excellent guide to living off-campus from IU Student Legal Services: "Living Good in the Neighborhood"
Essential Information
Residential Services 
Sanitation Services--trash, recycling, and yard waste pick up.
Violations--what happens if you do not properly dispose of trash or properly care for your yard and sidewalk.
Prospective and current home owners--Home Buyers Club, housing counseling, grants and loans, affordable housing. 
Neighborhood Parking--online portal to obtain a residential parking permit, find your neighborhood parking zone.
Utilities--water and sewer service, storm water, water quality reports.
Animal Care & Control--pet adoption, lost and found pets.
Helping Bloomington Monroe--need help? Search for free or reduced cost services like medical care, food, job training, and more.
Rental Housing and Occupancy
All rental properties in the city are subject to the Rental Occupancy Program, which requires a rental property to be registered with the City of Bloomington, and to be inspected every 3-5 years. Each rental property must display a current occupancy permit, issued by the City's Housing & Neighborhood Development Department (HAND). Every rental property has a file in the HAND department. We invite you to look at the file BEFORE you sign a lease!
Rental properties are limited in the number of unrelated adults who may occupy them. Occupancy limits are determined by zoning of the area in which the rental property is located. Maximum occupancy load is listed on every City of Bloomington Rental Occupancy Permit for the property in question. 
Tenants and Landlords
Tenants who have a problem with the physical condition of their rental property should first notify the property manager or owner. If the problem is not resolved in a timely manner, call the HAND department at (812) 349-3420 to file a complaint. HAND is charged with enforcing compliance with City of Bloomington Municipal Code, to ensure public health, safety and welfare as it relates to rental housing. HAND cannot resolve issues related to leases or other legal disputes. Resources you may want to consider:
Student Legal Services for students at Indiana University. Poplars Bldg, 400 E. Seventh St, Rm 712. 812-855-7867. 
Indiana Legal Services for low-income renters. 214 S. College Ave. 2nd floor. 812-339-7668.
Community and Justice Mediation offers free dispute resolution to neighbors, neighborhoods, tenants and landlords, or organizations experiencing miscommunication or conflict. 205 S. Walnut St., Suite 16. 812-336-8677 or cjam@cjam.org.
Renters--rental complaints, request to view a rental property file BEFORE you sign a lease.
Landlords--rental occupancy registration and permits, over-occupancy policy, rental rehab loan programs, pre-inspection addendum.
City Contacts
Visit the "Contact Us" section of the website for main City phone numbers, a list of City departments, and to find City Hall.
Reporting an Issue
Use Bloomington's uReport to notify the City of community issues, such as potholes, graffiti, malfunctioning street lights, and more.
Crime Reporting
Residents can report incidents online within Bloomington city limits when there are no known suspects, witnesses, suspect's vehicles, or evidence that could lead to identification of a suspect and the incident is non-violent.
Noise Complaints
Quiet Nights is a program that provides funding to the Police Department to enforce the City of Bloomington noise ordinance. The noise ordinance enforced 24 hours a day. To file a complaint, call 812-339-4477.
Road & Sidewalk Closings/Construction
The City offers residents the ability to see current and future road closings, lane reductions, and sidewalk repairs around the City through a web-based application called inRoads. inRoads provides several types of views for users to see road closings on a map, a list, or a calendar. In addition to viewing road information through the inRoads web-based application, the public may download inRoads system data in iCal, XML or JSON formats through the application or receive e-mail alerts about upcoming or current roadwork.
To access the application or for more information, visit inRoads.
Transportation
Visit Bloomington Transit for a list of bus routes, the bus route map, to plan a bus trip, and to track a bus arrival.
"Welcome to Bloomington" Information for new neighbors and tenants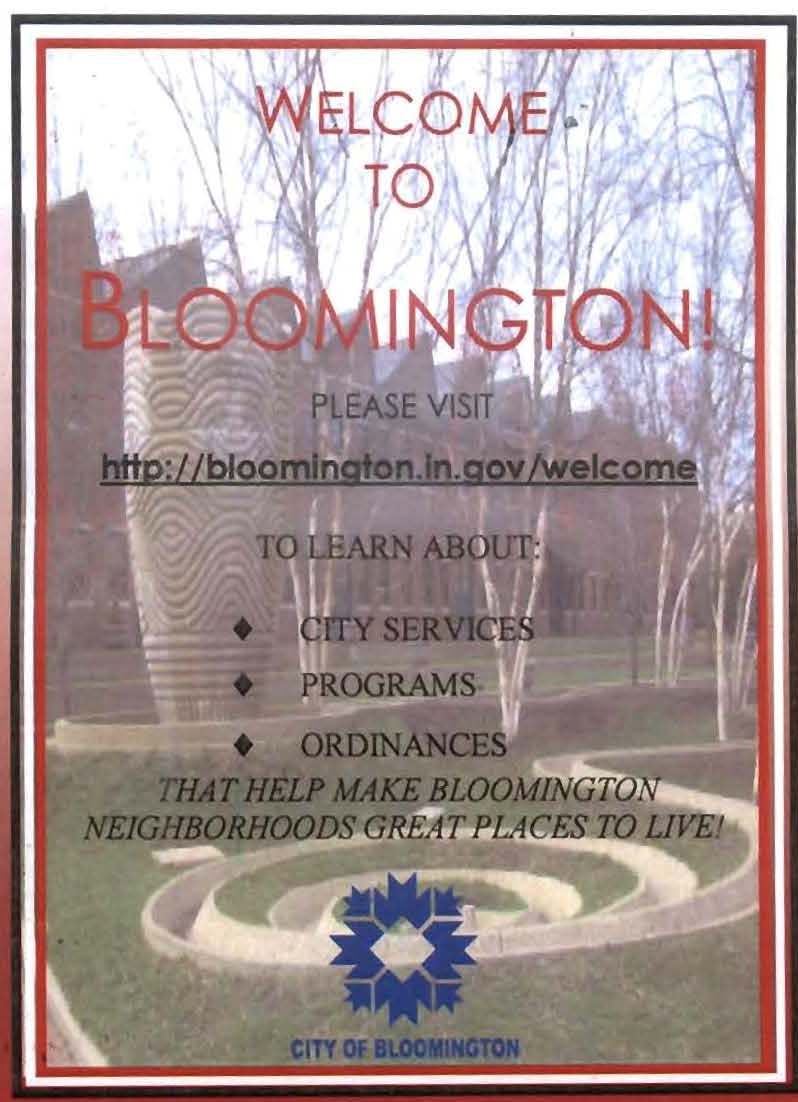 Upon request, HAND will provide welcome information to neighborhood groups and landlords to distribute to new neighbors and tenants. Items include:
Bloomington Noise Ordinance door hanger----information about the Bloomington Noise Ordinance, including the # to call to register a complaint and the fine structure for non-compliance;
Hardcopy of Welcome to Bloomington Infographic;
Welcome to Bloomington magnet (3 1/2" x 4 1/2"; pictured to the right)--featuring the URL for this website;
Welcome to Bloomington magnet with QR code (business card sized, pictured below)--the QR code takes you directly to this page.
HAND logo pens
Door Hanger plastic bags with City logo--perfect for delivering individual packets with the above items to each of your neighbors.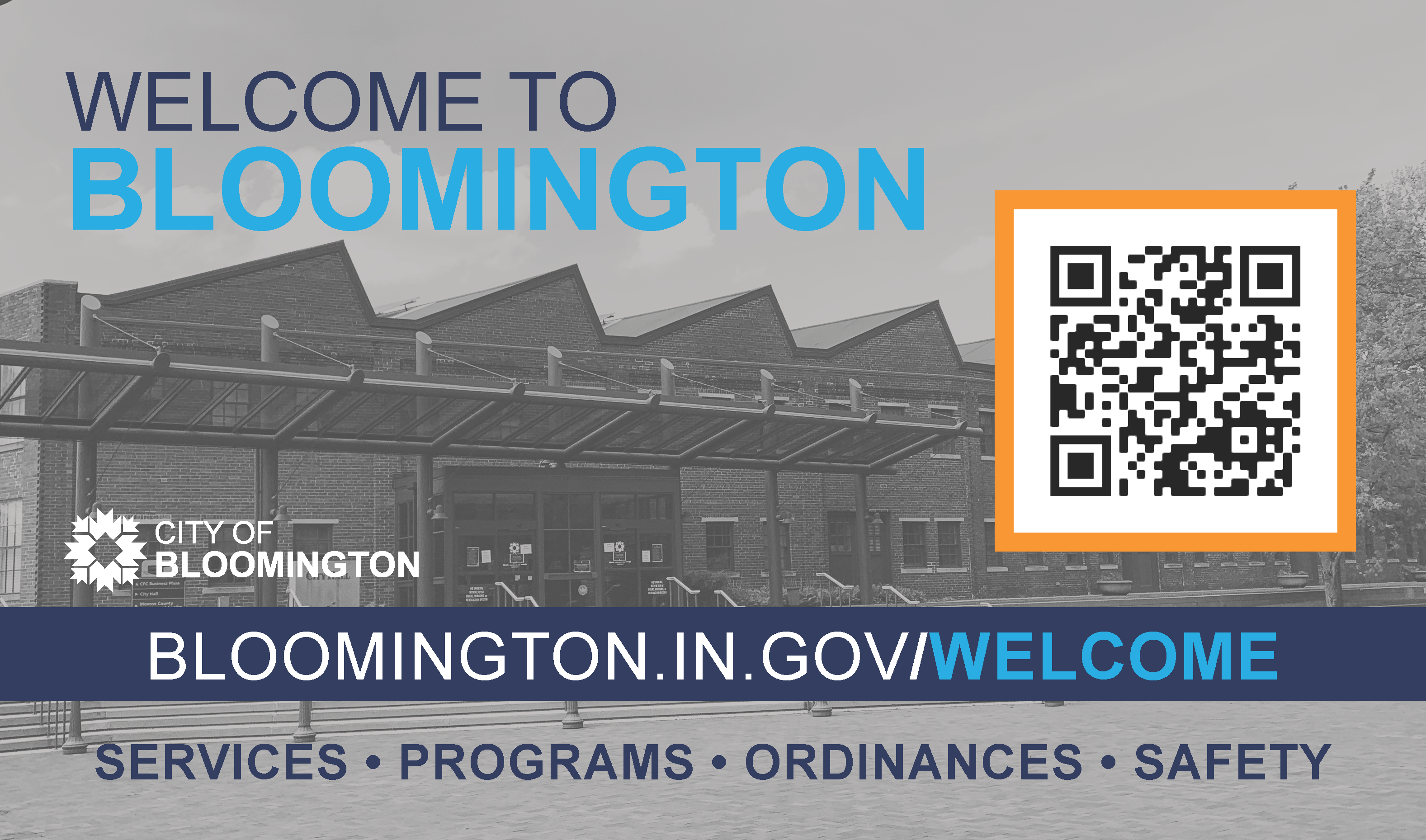 To order these materials for your neighborhood or tenants, contact Angela Van Rooy in the HAND Department at 812-349-3505, or email angela.vanrooy@bloomington.in.gov