Page last updated on October 2, 2019 at 8:42 am
Gracias Israel¡ Buenas tardes y bienvenidos! Me siento profundamente honrado, de dar la bienvenida a los ganadores, de los Premios de la Comisión de Asuntos Hispanos y Latinos esta noche. Felicitaciones a todos nuestros ganadores, y a sus familiares y amigos. Nuestra ciudad es mejor, gracias a ustedes.
(Thanks, Israel.  Good evening and welcome!  I am deeply honored to welcome the winners of the Commission on Hispanic and Latino Affairs Awards tonight. Congratulations to all of our winners and your families and friends.  Our city is better because of you.) No más español de mi parte esta noche. Lo Siento.
Tonight is a special night.  I am proud and grateful to be the mayor of a city filled with such engaged people as we have here tonight. As students, business owners, leaders of community agencies or individual residents, you have been advocates, servant-leaders, and ambassadors.  You have represented and served the needs of the Latinx and Hispanic community, and be role models to others within it. You've provided the opportunity for greater cross-cultural understanding. This is community-building for all of our residents, no matter what our heritage.
Recently we witnessed a powerful illustration of just how transformative an individual with conviction and energy -- who makes strong connections in the community -- can be.   As the keynote speaker here during National Hispanic Heritage Month, legendary activist Dolores Huerta shared the story of her life's work organizing actions to help Latinas and Latinos, and in particular for all farmworkers.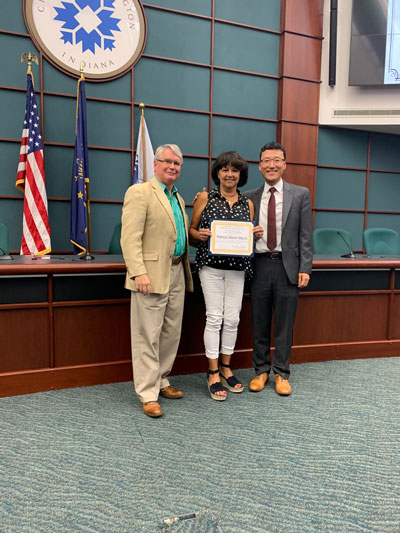 I bet many of you who heard her talk on September 19th shared my awe being in the presence of one of the twentieth century's most influential labor and civil rights leaders.  A New Mexico native who will be 90 in the spring! -- Huerta started her career as an activist in the 1950s with the Community Service Organization, getting voters registered and fighting for economic improvements for Hispanics. As you know, she made even more impact as a co-founder of the National Farm Workers Association, leading a five-year-long national boycott of Delano table grapes and a strike of 5,000 grape workers for whom she served as lead negotiator for the workers' contract that followed.  Huerta managed to secure safer working conditions, better wages, and healthcare benefits and lobbied for the passage of at least 15 bills into law.
"Si se puede"- "Yes we can" -- remember that slogan?  So many people associate it with Cesar Chavez, Huerta's more famous colleague (or with one recent president of the United States). Dolores reminded us quite clearly two weeks ago that, Si se puede!?  That was from Dolores, not those other guys. In more recent decades, this mother of 11 has attacked gender imbalances, too. In the 1990s, she began encouraging Latinas to run for office -- The "Feminization of Power" campaign resulted in a large increase of female representatives at local, state and federal levels. (and she mentioned she just got arrested last year I think -- she's still at the front line and with the grassroots.)
Advocating for people who are historically under-represented, providing resources and services to strengthen our community, and celebrating the many cultures thriving among us, are just some of the efforts for which tonight's honorees are being lauded.  On behalf of the 85,000 residents of Bloomington, and our 2 million annual visitors, I salute you for your own tireless work to address issues confronting our Latinx and Hispanic residents and to provide resources and connections. For actively sustaining your cultures and sharing them through such events as the Black y Brown Festival and the Fiesta del Otono, and the efforts of our partners at IU's La Casa and Latino Studies Progam.  We are grateful to the commissioners, the Latino Outreach Program of the City's Community and Family Resources Center, (give it up for Josefa Luce!!) and the network of faith-based groups, businesses, and services -- from El Centro Communal and WFHB's Spanish-speaking programming, to IU's Office of the Vice Provost for Diversity and Inclusion. 
Because of you, we are Bloomington.  With great appreciation and admiration for your extraordinary effort to make life sweeter for all.  Gracias y Felicitaciones!