Page last updated on September 14, 2021 at 9:28 am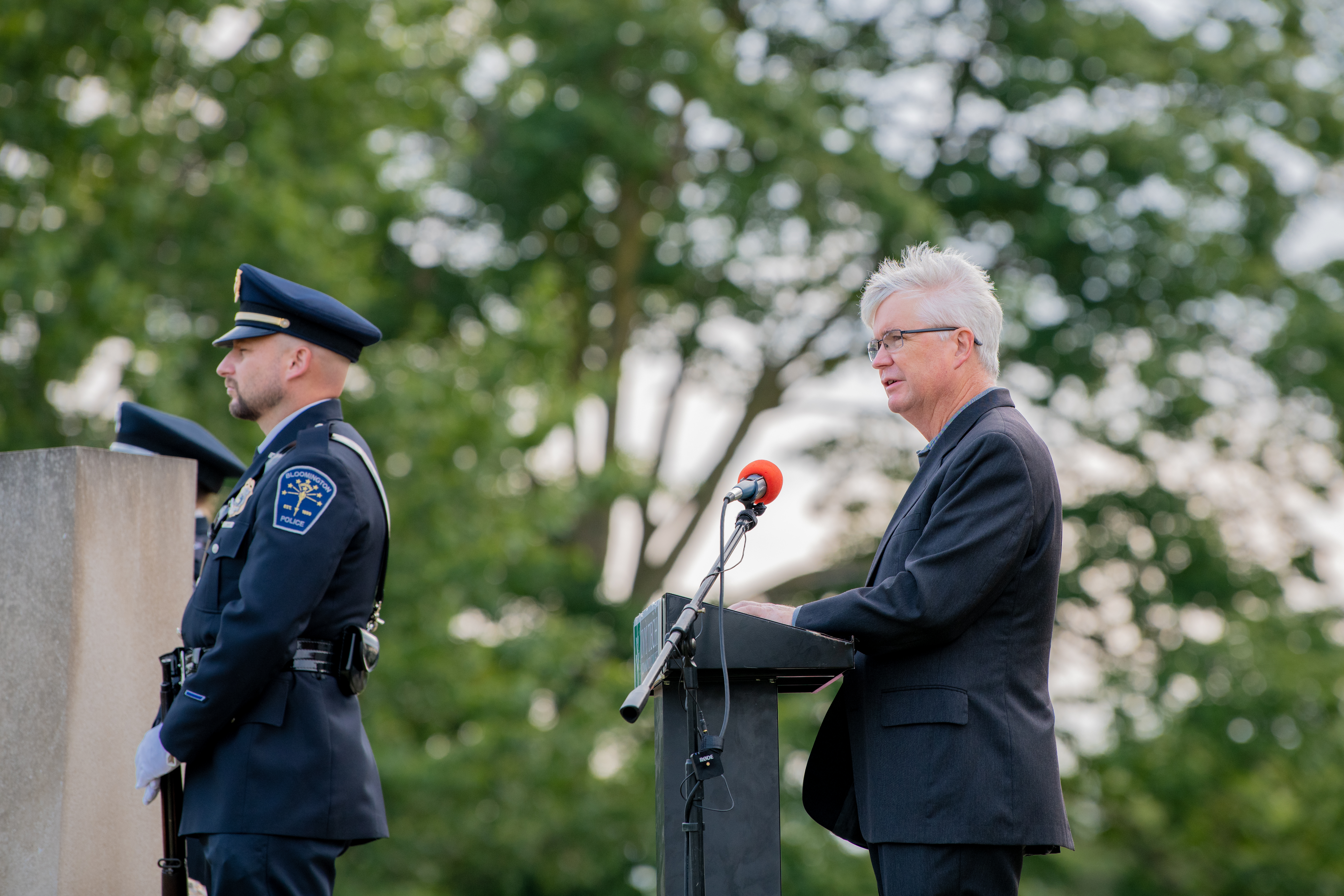 Dear friends and neighbors, thank you for joining us here today for this solemn occasion. And sincere thanks to the Bloomington Metropolitan Fire Fighters Union Local 586 who organize and are leading today's ceremony. We gather to reflect on and pay homage to the lives of your counterparts, and all the public safety personnel, who died in the line of duty, rushing in while thousands rushed out 20 years ago today -- some sacrificing themselves that shocking day, others lost and still being lost to long-term effects of their selfless and dedicated service in New York, Washington, and Shanksville. At the same time, we take this chance to salute our local public safety officials for your unwavering dedication to our community. And we remember all of those nearly 3,000 lives lost that tragic day. Each one of them -- someone's child, someone's parent, someone's sibling. A coworker, a neighbor, a friend.     
We gather today, twenty years later, to honor each of them, and to ensure that they are not forgotten. We gather to create meaning beyond the immediate and ghastly loss of that day. This anniversary lets us grieve and honor, but also lets us consider the time gone by. In twenty years a whole generation of Americans has grown up in the aftermath of this national tragedy that they did not experience first-hand. They have grown up in a world changed with the legacy of those devastating attacks -- from airport security measures to involvement in our country's longest-ever war in Afghanistan, to new international stress points and pressures, and cultural and religious divides.    
Growing up after 9/11 may have given them, and all of us, a heightened sense of global awareness. For those of us who remember that day vividly -- and its aftermath, we can remember the tangible feeling of togetherness -- the shared love of country and shared concern for our future. The coming together on September 12th, beyond geography or age or political party or race to feel, really feel at a personal, emotional level, the connections and vulnerabilities and dependencies we share. In the twenty years since, still other emergencies of global proportions have reminded us how closely we are all connected -- climate change, the refugee crisis, the COVID-19 pandemic. Isn't it right to hope that these current global challenges might similarly bring us closer together, to feel the shared future and the emotional connections. It almost seems naive to wish so. But is it? Or is it deeply hopeful and important? It is a dangerous and demoralizing thing when great challenges or threats, rather than bring us together, pull us apart and aggravate our prejudices and misgivings. Perhaps a powerful legacy of 9/11 could be to remind us that we CAN come together as people, a country, a planet -- emotionally, at a very human level, when confronted with grave threats. Not just can, but really must.
These global forces and phenomena and challenges that bring distant places and people into closer connections and closer view, remind us here of our chance, or obligation, to play a role on the world's stage. Just last week, desperate Afghan families fleeing the Taliban began to arrive in Indiana, perhaps as many as 5,000 Afghans on the way. Many, many Hoosiers are welcoming them, with hospitality and clothing, food, and shelter. Including our own community, as we have reached out to the resettlement agencies to identify how Bloomington can help. Bloomington has a long history of welcoming folks fleeing oppressive situations, and we look forward to becoming home to some of these new Afghan families. Like many before them, they will become our neighbors, our schoolmates, our coworkers; and these connections will create just that much more understanding in the world.  
Twenty years after one of our nation's darkest days, let our commitment to human rights, our embrace of multiculturalism, and our empathy toward all be our guideposts toward the light. Twenty years later, let us refresh our understanding that global challenges demand local attention, and action, rooted in love and dedicated to advancing equity, to lifting up our shared humanity, feeling that shared humanity in our bones, and to improving our undeniably interconnected destinies.